News Release: JAG-K Career Specialist Participates in Marine Corps Workshop
Wonder what career specialists do during the summer months? Well, in addition to helping students with employment, educational enrichment, credit recovery or emotional support, they also network to expand opportunities for students.
Karla Pledger, Career Specialist at F.L. Schlagle High School in Kansas City, recently attended the Marine Corps Educator's Workshop to build her knowledge of military career options for her students.
A Marine recruiter who visited F.L. Schlagle presented the opportunity to Pledger after learning about the mission of JAG.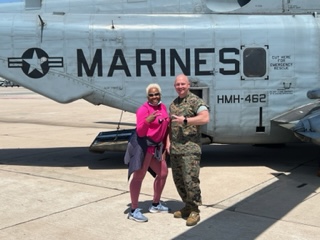 "This was the first time they ever recruited a JAG representative to participate," Pledger said. "They are just now learning about JAG. He asked me what the program was about, and he said 'Oh, you're perfect for what we're trying to do.'"
Pledger spent a week at the Marine Corps Recruit Depot in San Diego, where she wore the uniform and gear of a Marine, and went through a simulated training course, which included throwing a live grenade, riflery training and navigating a challenge course. The training involved educators from the Kansas City area, including teachers, coaches and career and guidance counselors.
"They treated us like they would the Marines. It was challenging, but I finished," Pledger said. "I went to learn about the military in order to better inform my students. They often ask me what I think about joining the military, and I didn't have a lot of knowledge to share with them. I learned that there are a lot of benefits and opportunities that I can share with my students."