Involvement Opportunities
JAG-K currently hosts multiple events across the state each year. We are always looking for service-minded people who enjoy helping students find their path to success. Our largest events each year are our State Career Development Conferences (CDC). 
This year, we will also be partnering with the Iowa JAG program and JAG Missouri to hold a Midwest Regional Career Development Conference on June 18, 2019. Each state will be bringing their National Qualifying students to participate in a mock competition against each other. This will serve as a polishing event for the students before they attend the National Student Leadership Academy and Competition in Washington, D.C. this fall. Our first annual Midwest Regional Career Development Conference is also in need of sponsors and volunteers.
Wondering what a Career Development Conference is? Click here!
Both the Regional CDC and the State CDC events are always in need of professionals who are willing to serve as a guest judge for an event category. Events also benefit from volunteers who are willing to ensure that students are finding their correct event location and that things run smoothly. In addition, sponsorship opportunities are always available for Regional and State events. If you are interested in any opportunity to get involved with JAG-K, please fill out our form on this page and we will be in touch soon.
Please see our upcoming event list below.
State Career Development Conference and Career Fair

High School Students

April 17, 2019

Salina, Kansas

State Career Development Conference and Career Fair

Middle School Students

April 18, 2019

Salina, Kansas

Midwest Regional Career Development Conference

Students from iJAG (Iowa), JAG Missouri, and JAG-K

June 18, 2019

Embassy Suites by Hilton

7640 NW Tiffany Springs Pkwy

Kansas City, Missouri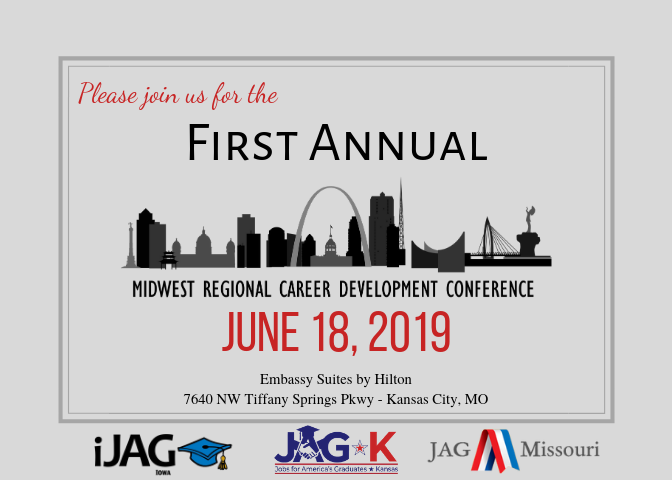 Midwest Regional Career Development Conference