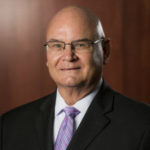 Dennis Mullin
Dennis Mullin is the Chairman of Steel & Pipe Supply, one of the largest steel service centers in the nation. He was appointed to the Kansas Board of Regents by former Governor Sam Brownback in 2015. Mullin earned his bachelor's degree from Pittsburg State University in 1970 and graduated as the Outstanding Senior Man. He is a member of the Advisory Counsel for the College of Business Administration at KSU, KSU Foundation Trustee Emeritus, and board member for the KS State Bank of Manhattan.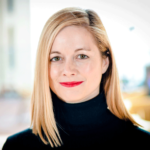 Molly Kocour Boyle
Molly Kocour Boyle serves as the Regional Vice President of Kansas External Affairs for AT&T. Kocour Boyle has worked in public relations for more than 10 years. She serves on the Kansas Chamber Board of Directors and is a member of the Kansas Broadband Task Force. Kocour Boyle has a B.S. in Journalism and B.A. in Political Science with honors from the University of Kansas.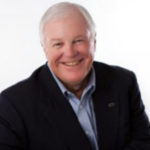 Jim Clark
Former Business Executive
Jim Clark served as the State of Kansas Secretary of Administration from August 2013 to July 2015. Prior to that, he spent 23 years in the utility industry in various senior management positions of Fortune 500 companies after starting with Kansas Gas and Electric in 1978 as manager of internal audits. Clark is a past president of the KSCPA and served on the Board of Directors for many years. He earned his bachelor's degree in accounting from Regis University in 1961 and became a certified public accountant in 1966.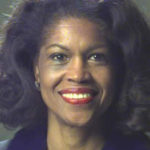 Hon. Barbara Ballard
Representative Ballard has represented the 44th district in the Kansas House of Representatives since 1993. She has a BMeED (1967) from Webster College, and an MS (1976) and PhD (1980) from KSU. Ballard has been with KU since 1980 and has served in many roles during her tenure including Dean of Students. Since 2004 she has served as Associate Director of Civic Engagement & Outreach at the Dole Institute of Politics. Ballard is also the Chair of the Democratic Caucus and is the first African-American to serve on Leadership.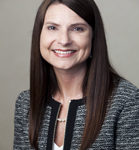 Jennifer Bauer
Jennifer Bauer is the General Counsel for Delta Dental of Kansas. She has been with DDKS since 2015. She provides direction, guidance, and assistance on legal matters to the company, educates management on legal changes, and works with outside legal counsel as needed. Bauer also oversees the administration of all insurance contracts.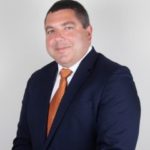 Mike Beene
Kansas Department of Commerce
Mike Beene currently serves as the Director of Employment Services for the Kansas Department of Commerce, Workforce Services. His duties include oversight of all federal workforce programs and grants, in addition to the 23 workforce centers located across the state. Beene received a Master's degree in Education from Kansas State University and prior to his career with the Department of Commerce, he was an educator and administrator in both secondary and postsecondary institutions in Kansas.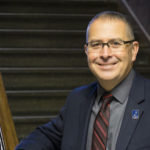 Kevin Case
Kevin Case began his education career in 1987, teaching at Jefferson West HS in Meriden. He has served as Superintendent for Emporia Public Schools since 2016. Prior to coming to Emporia, he served as Superintendent of Inman Schools for 17 years.  In 2011, he started a consulting business on change, vision, leadership, and technology integration for education and business-focused groups. Case received bachelor's and master's degrees from K-State and his superintendent certification from FHSU.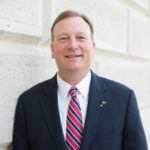 Alan Cobb
Alan Cobb is the President and CEO of the Kansas Chamber of Commerce, of which he was named in 2017. Prior to the Kansas Chamber, Cobb most notably served as the Deputy State Director during Bob Dole's 1996 presidential campaign. His focus areas include healthcare, insurance, business and tax legislation. A native of Wichita, Cobb earned his bachelor's degree at WSU. He then went on to the University of Pennsylvania, where he earned a master's in Governmental Affairs, before returning to Kansas to receive a J.D. from Washburn.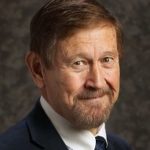 Hon. Bud Estes
Senator Bud Estes has represented the 38th district in the Kansas Senate since 2017. Prior to this, he served the 119th district in the Kansas House of Representatives. Estes has a long history of service in his community that started with his family business in Bucklin, Kansas. After his graduation from Fort Hays State University in 1968, he was a member of the Bucklin City Council before beginning his 14-year service as the Mayor of Bucklin. Estes also serves on the Board of Directors for the FHSU Foundation, in addition to numerous other civic organizations.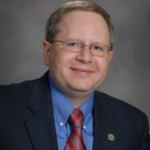 Troy Findley
Troy Findley, former Lt. Governor of Kansas, boasts extensive experience within Kansas Government. He served eight years in the Kansas House of Representatives before being hired as the Legislative Liaison for Governor Kathleen Sebelius. Governor Sebelius later named him as Chief of Staff, where he continued under Governor Parkinson until his appointment as Lt. Governor in 2009. Since 2011, Findley has worked at the Summit Strategies Group, a governmental relations and affairs firm in Topeka.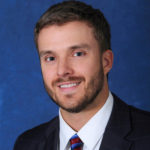 Andrew Wiens
Andrew Wiens currently serves as the Vice President of Government Relations for the Wichita Chamber of Commerce. Prior to serving as the Chief Policy Officer under Governors Sam Brownback and Jeff Colyer, he was Senior Advisor and Director of Legislative Affairs for the Department for Children and Families. Wiens has a bachelor's in Business Management from Tabor College and a master's in Business Administration from Washburn University.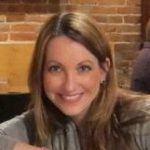 Erin Kobler
Erin Kobler has been Senior Corporate Counsel for Cerner Corporation since March 2018. She previously served as Assistant General Counsel for Hallmark Cards and had been with the company since 2010. Kobler has worked as Senior Counsel to many prestigious area firms and corporations. She earned a Bachelor of Science degree in Journalism from KU and her Juris Doctor (JD) degree from the UMKC School of Law in 2003.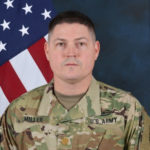 LTC Trent Miller
Lt. Col. Trent Miller commands the 1st Battalion 235th Regiment of the Kansas Army National Guard. He also serves as Deputy G1 of the Joint Forces Headquarters Land Component. Miller's awards and decorations include Bronze Star, Meritorious Service Medal, Commendation Medal with Silver Oak Leaf Cluster, and the NATO Medal, among many others. He received his bachelor's degree from Pittsburg State University.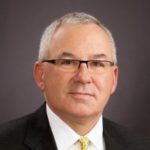 Mike O'Neal
Mike O'Neal of O'Neal Consulting has decades of legal and government expertise. Prior to forming his own consulting firm, he was President & CEO of the Kansas Chamber after serving 28 years in the Kansas House of Representatives and two terms as Speaker of the House. O'Neal earned his bachelor's from KU and continued there to obtain his J.D. degree. Honors include being named to Who's Who in America, Who's Who in American Law, and Who's Who Among Emerging American Leaders, among many other awards.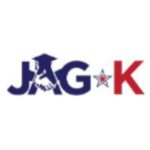 Kenya Cox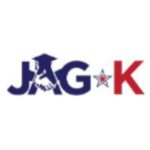 Kevin Like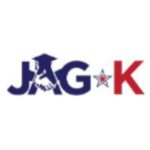 Jim Echols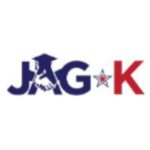 Daphne Maxwell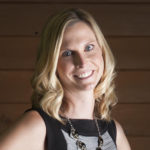 Jamie Stafford
Jamie Stafford is Risk Manager at Key Staffing where she oversees loss prevention programs, manages employee benefits and unemployment costs, and provides HR consulting services. She earned her bachelor's degree in Psychology from Washburn University and is a Certified Staffing Professional. Jamie is a Topeka South Rotary member and has been awarded a Paul Harris Fellow for her leadership of Sole Mates. She is a Leadership Greater Topeka graduate and one of Topeka's 'Top 20 Under 40' honorees. As a mother and employer, high-quality child care and education is a priority for Jamie; she is a proud board member of both Child Care Aware of Eastern Kansas and Jobs for America's Graduates – Kansas.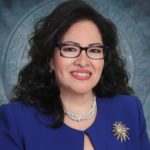 Delia Garcia
Former Sec., KS Dept of Labor
Delia Garcia serves as the Cabinet Secretary for the Kansas Department of Labor, confirmed by the Senate on May 3, 2019. Garcia returned to Kansas after serving eight years in Washington, DC in executive, senior leadership in the national organizations ReflectUS, National Migrant Seasonal Head Start Association, and the National Education Association. In 2004, she was elected to the Kansas House of Representatives, where she served six years and served on the Commerce and Labor Committee at her request. Delia made Kansas history by becoming the first Latina and the youngest female to serve in the Kansas Legislature in 2004. Garcia is utilizing her business, policy, national management, and advocacy expertise to serve hard working Kansans and their families.
This year at the national level, Secretary Garcia was elected to serve on the National Association of State Workforce Agencies (NASWA) Board of Directors for Region VII and Co-Chair of the UI Committee. She is actively engaged with the National Governor's Association Workforce Committee. At the state level, Garcia serves on the Technical Education Authority, Kansas Advisory Committee on Career & Technical Education, Kansas Works Board of Directors, the Governor's Education Council, and the Governor's Kansas Census Complete Count Commission.