News Release: Hiawatha High School Career Specialist Honored by Skilled Trades Organization
Kelly Griswold, the Jobs for America's Graduates-Kansas (JAG-K) Career Specialist from Hiawatha High School, recently was honored by the National Institute for Construction Excellence (NICE) as the organization's New Partner of the Year in Construction Education.
Based in Kansas City (Mo.), NICE is dedicated to increasing awareness of construction career fields and skilled trades. NICE offers skill and safety training, student competitions and field trips. It also coordinates externships for educators and classroom visits by industry experts.
Griswold was recognized at the NICE annual awards banquet for her efforts to introduce students to careers in construction and to connect them to potential employers. Griswold was not told she would receive the award in advance of the banquet, which was attended by several of her students, as well as Hiawatha High School Principal Lori Fordyce.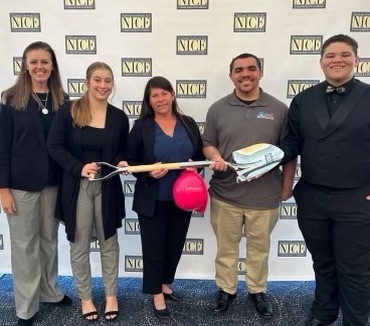 "It was a total shock. I had no idea I would receive an award," Griswold said. "I was just excited to take our students to the banquet to engage with the professionals there and learn from them."
"JAG-K's focus on helping students consider their career options is what makes it a natural partner for NICE," said Greg Lever, Executive Director of NICE. "Kelly's passion for her students, her personal involvement in the construction industry and the fact that she creates opportunity for her students to engage in career exploration with NICE are the main factors that fostered the decision to honor her with the award."
In recent years, Griswold has engaged with NICE to coordinate guest speakers in the classroom and off-campus training opportunities. Hiawatha students recently attended the NICE iBuild Showcase, which educates participants on the construction industry through hands-on activities and interaction with professionals. In February, NICE provided free OSHA training to 13 Hiawatha JAG-K students.
"NICE is giving the students such a great chance to network and learn about opportunities," said Joni Bolen, Employer Engagement Director for JAG-K. "They really understand our mission to introduce our students to as many career options as possible. We have a lot of students who are interested in the skilled trades, so this partnership is very beneficial."
Lever said investing in students – and JAG-K participants in particular – will pay off in the long run for Kansas businesses.
"NICE works to connect students with the skilled trades because it fulfills a mutually beneficial need," Lever said. "The future workforce "resides" in the schools, and we are motivated to help create the connection with the industry that otherwise would not be made. The community is well-served when our local talent plays an active role in designing and creating the built environment. Civic pride, personal satisfaction and a robust economy are all long-term products of this effort."
JAG-K is a multi-year, in-school program for students in grades 6-12 that offers tools to successfully transition students into post-secondary school, the military, or directly into the workforce with marketable skills. Participants in the program face multiple barriers to success that their JAG-K Career Specialist helps them overcome through a nationally-accredited, evidence-based model.
The 501(c)3 not-for-profit organization is a state affiliate of the national JAG program network which operates in 38 different states and territories. It is primarily funded through the Temporary Assistance for Needy Families block grant to the State of Kansas administered by the Kansas Department for Children and Families (DCF). In addition to school districts and DCF, JAG-K partners with the Kansas Department of Education. Other JAG-K funding sources include ADM, AT&T, EagleU, Evergy, Goldstein Charitable Trust, the JB and Anne Hodgdon Foundation, John Deere, the Kansas Chamber of Commerce, Kansas Gas Service, the Kansas Insurance Department, the Kansas State Bank Commissioner, Royals Charities, Synchrony Financial, the Taco Bell Foundation, the City of Topeka, United Way of the Plains and Walmart.
To learn more about JAG-K, visit www.jagkansas.org, 'Jobs for America's Graduates-Kansas' on Facebook, and on Twitter at @JAG_Kansas.