JAG-K STUDENTS ATTEND JAG NATIONAL STUDENT LEADERSHIP ACADEMY IN WASHINGTON, D.C.
Local students compete, participate in leadership workshops and tour the nation's capital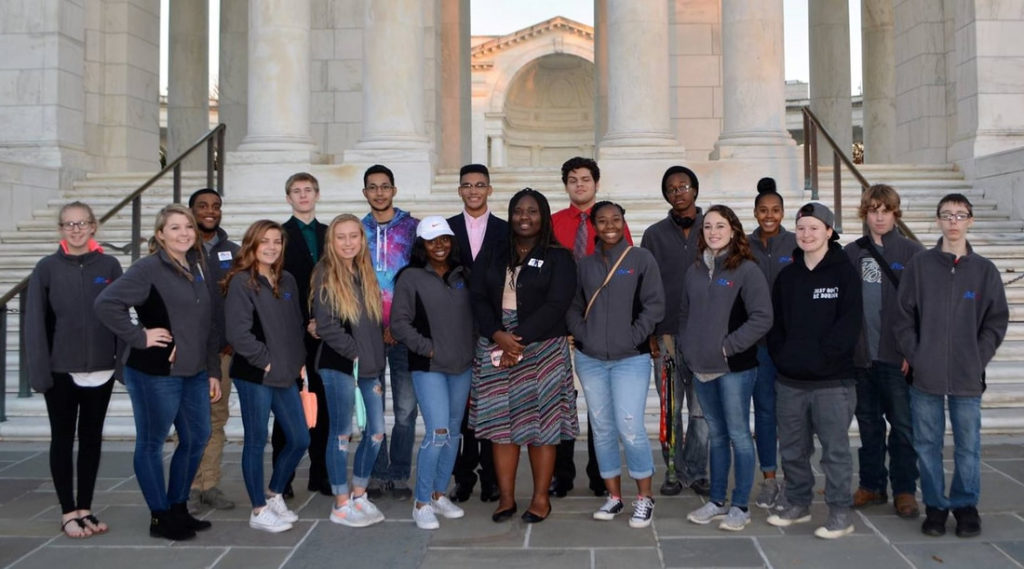 TOPEKA (December 13, 2017) – 18 Jobs for America's Graduates-Kansas (JAG-K) students attended the JAG National Student Leadership Academy (NSLA). The students competed in skills competitions, attended leadership workshops and had the opportunity to tour familiar monuments and museums in the nation's capital. The students earned a spot with the group by placing in the JAG-K state skills competition in October.
"The students represented JAG-K and Kansas well at the National Student Leadership Academy," said Chuck Knapp, President/CEO of JAG-K. "I am not only proud of their accomplishment, but I am also pleased they understand the correlation between preparation, work, and reward."
Students earned the all-expense paid trip by finishing in the top three in one of four skills competitions at the JAG-K Leadership Development Conference held at the National Guard Training Center in Salina, KS in October. The skills competitions were: Employability Skills; Math Skills, Public Speaking and Project Based Learning. Three statewide JAG-K Career Association elected leaders also earned a position on the national team.
JAG-K is a 501(c)3 not-for-profit organization that is engaged in 33 Kansas school districts and serves more than 2,700 students. JAG-K is an affiliate of the national JAG program that operates in 32 states. The 37-year old program has assisted more than one million students nationwide.
In addition to school districts, JAG-K partners with the Kansas Department for Children and Families (DCF) and the Kansas State Department of Education. Funding for the program primarily comes from Temporary Assistance for Needy Families (TANF) dollars, administered by DCF. JAG-K also relies on private funds from contributors including AT&T, John Deere, Aetna Foundation, and Amerigroup Foundation. 
Anyone interested in more information about JAG-K may visit the website at www.jagkansas.org.