JAG-K STUDENT AWARDED SCHOLARSHIP AT JAG NATIONAL STUDENT LEADERSHIP ACADEMY IN WASHINGTON, D.C.
<![CDATA[
TOPEKA 
(December 18, 2017) – Gabriel Smith, a senior at Lawrence Free State High School, was presented a $1,000 Jim and Karen Koeninger Scholarship during the Jobs for America's Graduates (JAG) Awards Luncheon at the National Student Leadership Academy (NSLA) in Washington, D.C.
Gabe's Smith's application was based on a personal essay and resume and was selected as one of 11 scholarship winners from the 90 applications submitted by qualifying seniors from across the country. The Scholarship Committee shared they were moved and impressed with the caliber of the students who submitted applications.
The Jim and Karen Koeninger Scholarship Fund was established by the JAG National Board of Directors to recognize Executive Vice President, Dr. Jim Koeninger, and Corporate Vice President, Karen Koeninger for their extraordinary leadership and service to JAG. Gabe Smith became eligible to compete at NSLA and apply for the scholarship by finishing in the top three in the state of Kansas in the Employability Skills competition at the statewide Jobs for America's Graduates-Kansas (JAG-K) Leadership Development Conference in October.
"Gabe has been a leader in the Free State High School Career Association and at the state level of JAG-K. It has been a genuine pleasure getting to know him, and I look forward to watching him succeed as a distinguished JAG-K Alumnus," said Chuck Knapp, President/CEO of JAG-K.
JAG-K is a 501(c)3 not-for-profit organization that partners with 33 Kansas school districts to prepare students for successful futures. It is primarily funded with a federal grant administered by the Kansas Department for Children and Families. JAG-K, in its fifth year in Kansas, is an affiliate of the national JAG program that operates in 34 states. The 37-year old program has assisted more than one million students nationwide. Lawrence Free State High School JAG-K program is led by Career Specialist Samantha Wilkerson.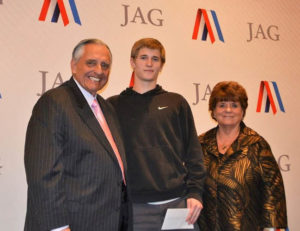 Pictured: Jim & Karen Koeninger and Gabrial Smith (center)