News Release: United Way of the Plains Makes $50,000 Grant to JAG-K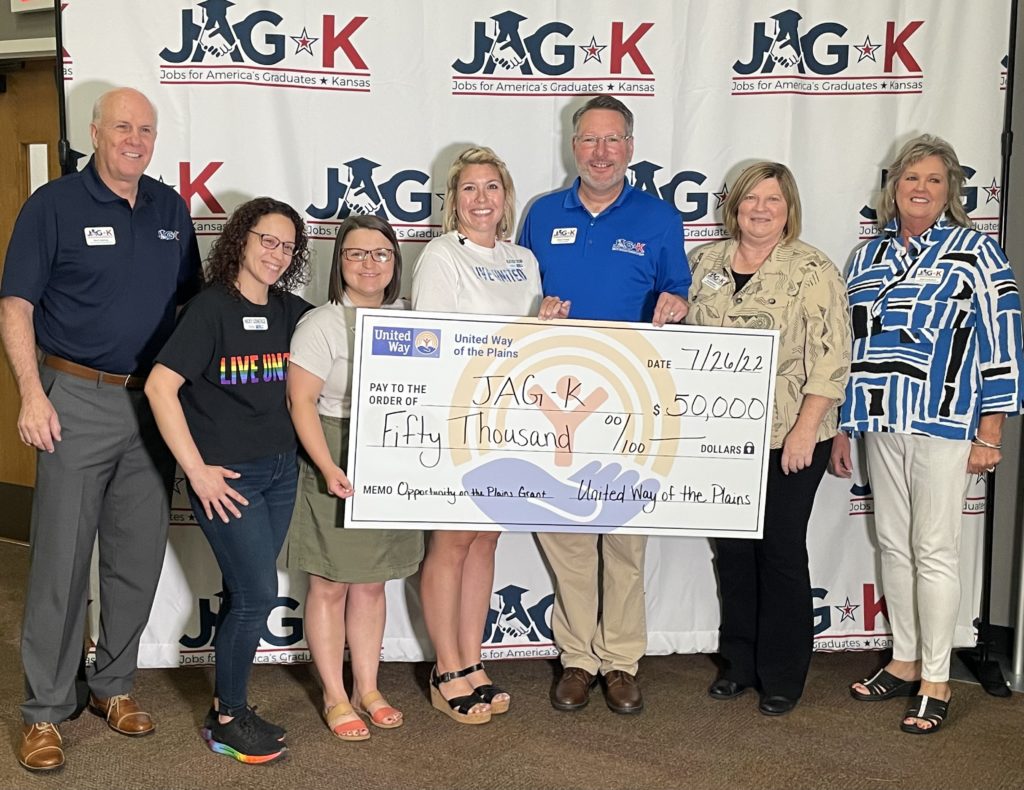 Jobs for America's Graduates-Kansas (JAG-K) will receive a $50,000 grant from the United Way of the Plains to assist in its mission to help students overcome barriers to success.
JAG-K is one of 69 human services programs that will receive funding from United Way of the Plains dedicated to help individuals and families throughout south central Kansas achieve their human potential. The $6.6 million investment is part of the United Way of the Plains' annual "Opportunity on the Plains" funding cycle and includes nearly $800,000 in donor-designated funds.
"We are extremely grateful to the United Way of the Plains for recognizing the efforts of JAG-K to help students prepare for successful futures by investing in that work through this grant," said JAG-K president and CEO Chuck Knapp. "There are many impactful human service programs in south central Kansas, and to be included among those to receive financial support is an affirmation of our work with students."
Applications for the United Way of the Plains' annual funding opportunity were reviewed and evaluated by panels made up of a diverse group of community volunteers. The panels recommended funding for programs that addressed the community's greatest needs in health, education, financial stability and basic needs.
JAG-K works to help young people build professional skills, earn credentials, gain employment and enter postsecondary education. Through classroom learning, coaching, leadership development, job-placement and other services, youth and young adult students are set on pathways to academic and economic success.
"JAG-K is helping students tackle barriers and defy the odds," said Heather Crump, United Way of the Plains' Community Impact Manager – Education. "The relationships this program builds are impeccable. The students described the program to me as a "family" and I couldn't agree more. JAG-K is a safe place for students experiencing adversity to thrive. United Way of the Plains is excited to partner with them over the next 12 months."
JAG-K is a multi-year, in-school program for students in grades 6-12 that offers tools to successfully transition students into post-secondary school, the military, or directly into the workforce with marketable skills. Participants in the program face multiple barriers to success that their JAG-K Career Specialist helps them overcome through a nationally-accredited, evidence-based model.
The 501(c)3 not-for-profit organization is a state affiliate of the national JAG program network which operates in 40 different states and territories. It is primarily funded through the Temporary Assistance for Needy Families block grant to the State of Kansas administered by the Kansas Department for Children and Families (DCF). In addition to school districts and DCF, JAG-K partners with the Kansas Department of Education. Other JAG-K funding sources include ADM, AT&T, Evergy, Goldstein Charitable Trust, John Deere, the Kansas Health Foundation, the Kansas Insurance Department, the Kansas State Bank Commissioner, Stormont Vail Health, Synchrony Financial, the Taco Bell Foundation, the City of Topeka, United Way of the Plains and Walmart.
To learn more about JAG-K, visit www.jagkansas.org, 'Jobs for America's Graduates-Kansas' on Facebook, and on Twitter at @JAG_Kansas.