News Release: Textron Aviation Hosts JAG-K Students for "Girls in Aviation Day"
Approximately 200 participants in Jobs for America's Graduates-Kansas (JAG-K) programs in central Kansas took part in Textron Aviation's recent "Girls in Aviation Day" career exploration event.
Textron Aviation, home to Beechcraft, Cessna and Hawker airplane manufacturers, gave JAG-K students a tour of their facilities and provided hands-on activities to introduce various careers in aviation, from engineering and design to health and environmental safety, marketing and sales.
"At Textron Aviation, we know that when women are empowered, they soar," said Michelle Gifford, Director of Human Resources for the Wichita-based conglomerate. "It was a pleasure to encourage the participants to consider a future in aviation by hosting them for Girls in Aviation Day. The young women had the opportunity to learn from the many accomplished females whose leadership, intellect and determination help Textron Aviation design and deliver the best aviation experience for our customers."
Students from JAG-K programs in Wichita, Winfield, Augusta, Hutchinson and Great Bend participated in the event at Textron Aviation.
The multi-year, in-school program for students in grades 6-12 offers tools to successfully transition students into post-secondary school, the military, or directly into the workforce with marketable skills. One of the important features of JAG-K is employer engagement. Students are regularly introduced to a wide range of jobs and careers through field trips, job shadows, internships and summer or part-time employment.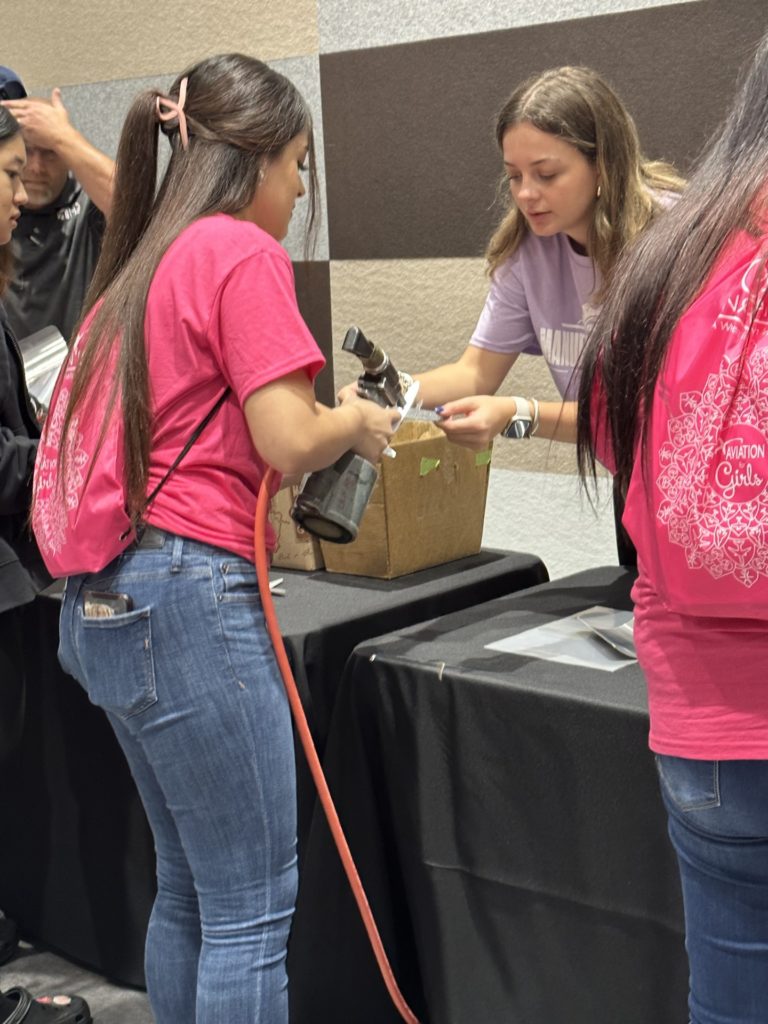 Melisa Gonzalez, a senior from Great Bend High School who serves as vice president of her program's career association vice president, aspires to a career in aviation. She was impressed by Textron Aviation's commitment to pay for up to $10,000 of college expenses for students who commit to work for them.
"Visiting Textron was a very cool experience. I had lots of fun and learned so many new things," Gonzalez said. "I had no clue that Textron even existed and when I was told about Textron, I thought it was only for people that wanted to become a pilot, but I was wrong because it's for anyone. This was a really great experience and I'm glad that I was able to go."
In recognition of Girls in Aviation Day, JAG-K President and CEO Chuck Knapp posted an "Espresso Yourself with Chuck" video interview with Ashley Bowen Cook, President of the Greteman Group of Wichita, a creative agency that specializes in aviation marketing. Cook was recently named Wichita Business Journal Executive of the Year. Previously, she was named the first female president of the Wichita Aero Club, an organization that promotes the aviation industry.
Click to watch the Espresso Yourself with Chuck episode featuring Ashley Bowen Cook
JAG-K is a multi-year, in-school program for students in grades 6-12 that offers tools to successfully transition students into post-secondary school, the military, or directly into the workforce with marketable skills. Participants in the program face multiple barriers to success that their JAG-K Career Specialist helps them overcome through a nationally-accredited, evidence-based model.
The 501(c)3 not-for-profit organization is a state affiliate of the national JAG program network which operates in 38 different states and territories. It is primarily funded through the Temporary Assistance for Needy Families block grant to the State of Kansas administered by the Kansas Department for Children and Families (DCF). In addition to school districts and DCF, JAG-K partners with the Kansas Department of Education. Other JAG-K funding sources include ADM, AT&T, EagleU, Evergy, Goldstein Charitable Trust, the JB and Anne Hodgdon Foundation, John Deere, the Kansas Chamber of Commerce, Kansas Gas Service, the Kansas Insurance Department, the Kansas State Bank Commissioner, Royals Charities, Synchrony Financial, the Taco Bell Foundation, the City of Topeka, United Way of the Plains and Walmart.
To learn more about JAG-K, visit www.jagkansas.org, 'Jobs for America's Graduates-Kansas' on Facebook, and on Twitter at @JAG_Kansas.