News Release: Norton High School Students To Demonstrate Business Plan at NCDC
Small Kansas communities like Norton are anxious to develop the talent in their schools to bolster the workforce for the future.
Through the Norton High School Jobs for America's Graduates-Kansas (JAG-K) program, three Tallents are putting their skills on display on a national level.
Sisters Kaitlyn and Ashalyne Tallent and their cousin Kierra Tallent, all Norton High School students, recently won the JAG-K Career Development Conference Business Plan Team Competition at McPherson College. That accomplishment earned them a chance to compete in JAG's National Career Development Conference in Orlando, Fla., this week.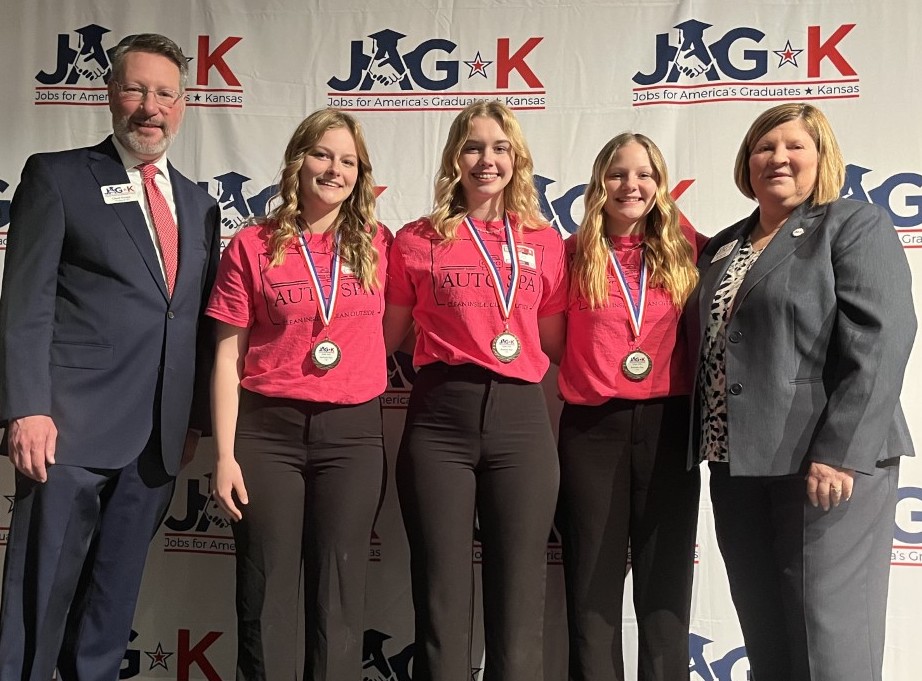 Kansas' 104 JAG-K programs, which serve more than 5,500 students in 49 school districts across the state, offer tools to successfully transition students into post-secondary school, the military, or directly into the workforce with marketable skills.
This is the first year that JAG-K is offered at Norton High School. The program provides opportunities for students to explore careers through employer engagement relationships. Those experiences may include field trips, job shadows, internships and summer or part-time employment.
For the JAG-K CDC competition in March, the Tallents prepared a detailed business plan for a vehicle washing and detailing service. The girls' business was tailored to a rural community, offering services for not just cars but trucks, tractors and other agricultural machinery. They presented the plan to a panel of judges at the competition.
"We learned a lot from forming the plan," said Kierra Tallent, a junior. "We had to learn about market sizes and researching the economics and what goes into starting a business. Then we had to make sure we could present it well. We practiced every day for about two weeks before CDC."
Winning the Kansas CDC permitted the Tallents the opportunity to pit their presentation against students from across the country, gathered in Orlando April 18-22. While they are focused on competing, the Tallents will also enjoy some special experiences along the way.
"None of us has flown before, so that's exciting but kind of scary, said sophomore Kaitlyn Tallent. "It's going to be fun to go to the beach and to visit Universal Studios. And we'll do the best we can in the competition. I hope we win."
The first-year JAG-K program at Norton High School is dedicated to developing the future workforce of the Western Kansas community, as well as the state, by exposing students to a variety of careers and opportunities.
"When I signed up as an eighth grader, I didn't know what it was, but heard it would help me," said Ashalyne Tallent, a freshman. "This year we have learned from guest speakers about what they do in their jobs. It's helping me figure out what I want to do after I graduate. I am seeing a lot of new careers that I might like to try."
JAG-K is a multi-year, in-school program for students in grades 6-12 that offers tools to successfully transition students into post-secondary school, the military, or directly into the workforce with marketable skills. Participants in the program face multiple barriers to success that their JAG-K Career Specialist helps them overcome through a nationally-accredited, evidence-based model.
The 501(c)3 not-for-profit organization is a state affiliate of the national JAG program network which operates in 38 different states and territories. It is primarily funded through the Temporary Assistance for Needy Families block grant to the State of Kansas administered by the Kansas Department for Children and Families (DCF). In addition to school districts and DCF, JAG-K partners with the Kansas Department of Education. Other JAG-K funding sources include ADM, AT&T, EagleU, Evergy, Goldstein Charitable Trust, the JB and Anne Hodgdon Foundation, John Deere, the Kansas Chamber of Commerce, Kansas Gas Service, the Kansas Insurance Department, the Kansas State Bank Commissioner, Royals Charities, Synchrony Financial, the Taco Bell Foundation, the City of Topeka, United Way of the Plains and Walmart.
To learn more about JAG-K, visit www.jagkansas.org, 'Jobs for America's Graduates-Kansas' on Facebook, and on Twitter at @JAG_Kansas.