News Release: John Deere Coffeyville Works Sponsors Local Program, Hosts Students at Plant
The Jobs for America's Graduates-Kansas (JAG-K) program at Field Kindley Memorial High School in Coffeyville recently visited a local John Deere unit which annually donates $36,000 to help fund the program.
Over the past seven years, the Field Kindley JAG-K program has benefitted from a local partnership with John Deere Coffeyville Works. (JDCW). The manufacturing plant has made donations, through the John Deere Foundation, each of the past seven years to help fund the in-school workforce-development program.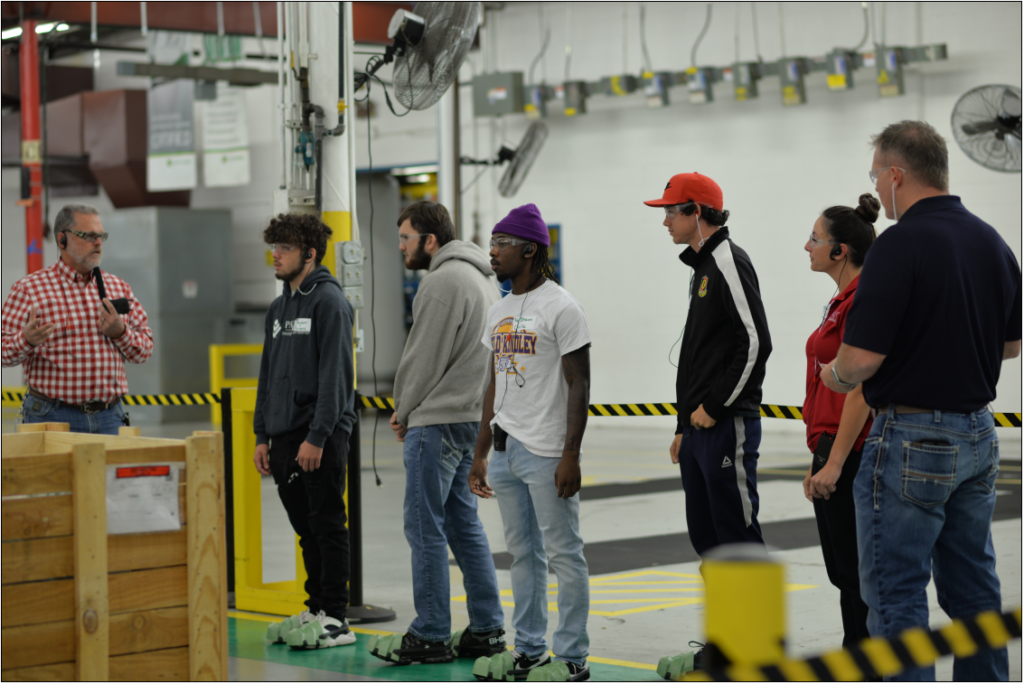 JAG-K offers tools to successfully transition students into post-secondary school, the military, or directly into the workforce with marketable skills. One of the important features of JAG-K is employer engagement. Students are regularly introduced to a wide range of jobs and careers through field trips, job shadows, internships and summer or part-time employment.
Going beyond making an annual donation, JDCW is making an impact on students by exposing Field Kindley JAG-K participants to opportunities and sharing tips on how to be successful.
In celebration of Manufacturing Month, 11 students from the Field Kindley JAG-K program toured the JDCW plant and met employees of the company. They were joined on the tour by several students from the JAG-K program at Parsons High School.
In one of the activities, the students simulated assembly line production using Legos to reinforce the importance of teamwork and communication to maximize productivity.
"Having the local JAG-K students at our factory was a great way to celebrate Manufacturing Month," said JDCW Factory Manager, Steve Timm. "I enjoyed seeing our production and maintenance employees showing what they do in each of their areas and watching the students work together as teams to improve the output from their simulated Lego production lines."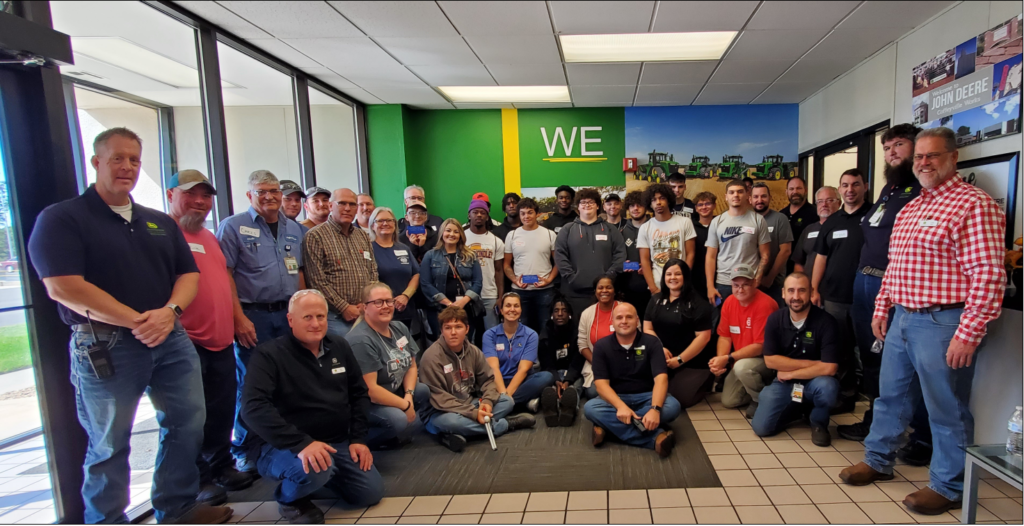 "I thought it was a lot of fun and very informative," said Field Kindley senior Dominick Keleher. "If I was given the chance to work there, I would take it in a heartbeat."
Under the direction of Career Specialist Shayla Reliford, the Field Kindley JAG-K program serves 50 participants. The grant provided by JDCW pays for the local program's JAG-K fees, administrative costs, and a portion of the Career Specialists' salary.
"The JAG-K program is committed to developing foundational skills in our local youth that align closely to John Deere's core values, and JDCW looks for those same foundational skills when recruiting future talent," said Mike Marquart, Labor Relations Manager at JDCW. "While JDCW is excited to know we can find that talent locally, equally important is the positive impact the Field Kindley JAG-K Program has on our local community."
"We are so appreciative of John Deere's financial support of the program at Field Kindley," said JAG-K president/CEO Chuck Knapp. "It is an investment in the future workforce of Coffeyville that will change many lives."
JDCW employs about 275 people at the Coffeyville location, assembling drive train components and producing parts for power systems for John Deere factories that make agriculture, construction, and forestry equipment. Initially founded as Funk Manufacturing in 1941, the corporation was purchased by John Deere in 1989.
JAG-K is a multi-year, in-school program for students in grades 6-12 that offers tools to successfully transition students into post-secondary school, the military, or directly into the workforce with marketable skills. Participants in the program face multiple barriers to success that their JAG-K Career Specialist helps them overcome through a nationally-accredited, evidence-based model.
The 501(c)3 not-for-profit organization is a state affiliate of the national JAG program network which operates in 38 different states and territories. It is primarily funded through the Temporary Assistance for Needy Families block grant to the State of Kansas administered by the Kansas Department for Children and Families (DCF). In addition to school districts and DCF, JAG-K partners with the Kansas Department of Education. Other JAG-K funding sources include ADM, AT&T, EagleU, Evergy, Goldstein Charitable Trust, the JB and Anne Hodgdon Foundation, John Deere, the Kansas Chamber of Commerce, Kansas Gas Service, the Kansas Insurance Department, the Kansas State Bank Commissioner, Royals Charities, Synchrony Financial, the Taco Bell Foundation, the City of Topeka, United Way of the Plains and Walmart.
To learn more about JAG-K, visit www.jagkansas.org, 'Jobs for America's Graduates-Kansas' on Facebook, and on Twitter at @JAG_Kansas.