News Release: JAG-K Students Learn About Dept. of Corrections Jobs at Ellsworth Facility
Jobs for America's Graduates–Kansas (JAG-K) is helping students prepare for successful futures by introducing them to a host of career options.
Recent tours of the Ellsworth Correctional Facility allowed students a first-hand look at job opportunities in a career field few get to see up close. More than 100 JAG-K participants from five high schools visited the correctional facility to learn about jobs within the Kansas Department of Corrections (KDOC).
The multi-year, in-school program for students in grades 6-12 offers tools to successfully transition students into post-secondary school, the military, or directly into the workforce with marketable skills. One of the important features of the program is employer engagement. Students are regularly introduced to a wide range of jobs and careers through field trips, job shadows, internships and summer or part-time employment.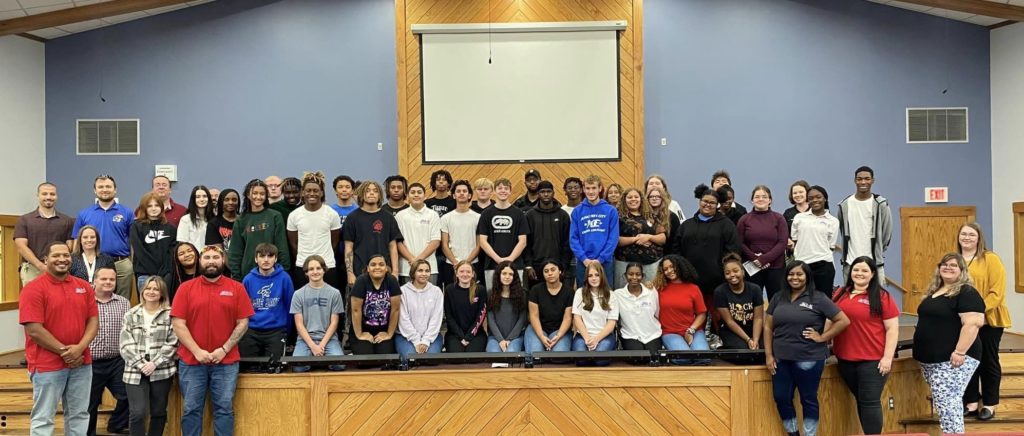 Ellsworth Correctional Facility coordinated the tours for students from Beloit, Great Bend, Junction City, Larned and Russell high schools to demonstrate the types of jobs available in KDOC, which employs more than 3,000 staff across the state.
"A career with the Department of Corrections can be very rewarding, because it offers stable employment, valuable training, and opportunities for career growth," said KDOC Human Resources Recruitment Manager Alyssa Cabello. "It's a chance to make a positive impact while developing valuable skills. KDOC has a multitude of entry level positions, as well as an abundance of opportunities to promote, move around, and truly find your niche. Whether you want to work behind a desk, or work with those with boots on the ground, we can find the position for you."
The students viewed a variety of jobs available within the typical correctional setting. Carolyn Graves, Policy & Compliance/Public Information Officer at the Ellsworth facility said there many opportunities for professional development and promotion in the corrections field.
"We have loved having these JAG-K students at ECF," Graves said. "These students have asked incredible questions, have added great points to our tours, and have stretched us to ensure we are showing everything they need to see. We wanted to show the many different career opportunities, while also revealing the educational programs, faith-based activities, private industries, and many other opportunities available to residents.
"Becoming a Corrections Officer at ECF is an amazing way to start your corrections career, and having advancement opportunities in Security, Classification, Educational Programming, Reentry Programming, Maintenance, Medical, and Behavioral Health makes this choice so powerful. We look forward to seeing how many of these talented individuals choose to join our ECF Team."
James Kingsbury, Larned High School senior and JAG-K State Career Association Vice President, said he was impressed by the variety of positions available within a correctional facility.
"Some of the job opportunities are some we wouldn't have thought of," Kingsbury said. "The employees usually keep their jobs for years. One had been there for 30 years. Everyone is really nice and patient with the residents and us as students trying to learn. They also seem to really enjoy what they do. It seems like a really great place to work."
JAG-K programs across the state, serving approximately 6,000 students, report a graduation rate of 96 percent over the past four years.
The 501(c)3 not-for-profit organization is a state affiliate of the national JAG program network which operates in 38 different states and territories. It is primarily funded through the Temporary Assistance for Needy Families block grant to the State of Kansas administered by the Kansas Department for Children and Families (DCF). In addition to school districts and DCF, JAG-K partners with the Kansas Department of Education. Other JAG-K funding sources include ADM, AT&T, EagleU, Evergy, Goldstein Charitable Trust, the JB and Anne Hodgdon Foundation, John Deere, the Kansas Chamber of Commerce, Kansas Gas Service, the Kansas Insurance Department, the Kansas State Bank Commissioner, Royals Charities, Synchrony Financial, the Taco Bell Foundation, the City of Topeka, United Way of the Plains and Walmart.
To learn more about JAG-K, visit www.jagkansas.org, 'Jobs for America's Graduates-Kansas' on Facebook, and on Twitter at @JAG_Kansas.