News Release: JAG-K Recognized by Royals at Kauffman Stadium
Students and staff of Jobs for America's Graduates-Kansas (JAG-K) were hosted by the Kansas City Royals Friday, Sept. 29, for JAG-K Day at the K, which included JAG-K President/CEO Chuck Knapp sitting in the Buck O'Neil Legacy Seat.
Royals Charities provided more than 1,000 free tickets to JAG-K, which was featured on the scoreboard as one of the game's special guests. For many of the JAG-K students and their families in attendance, it was their first visit to Kauffman Stadium.
"It was so cool that the Royals Charities gave us these tickets so that JAG-K could be here," said Meriska Henderson, a junior at Basehor-Linwood High School. "It's nice to be able to spend time with our friends and family out here. It's amazing that we had this opportunity."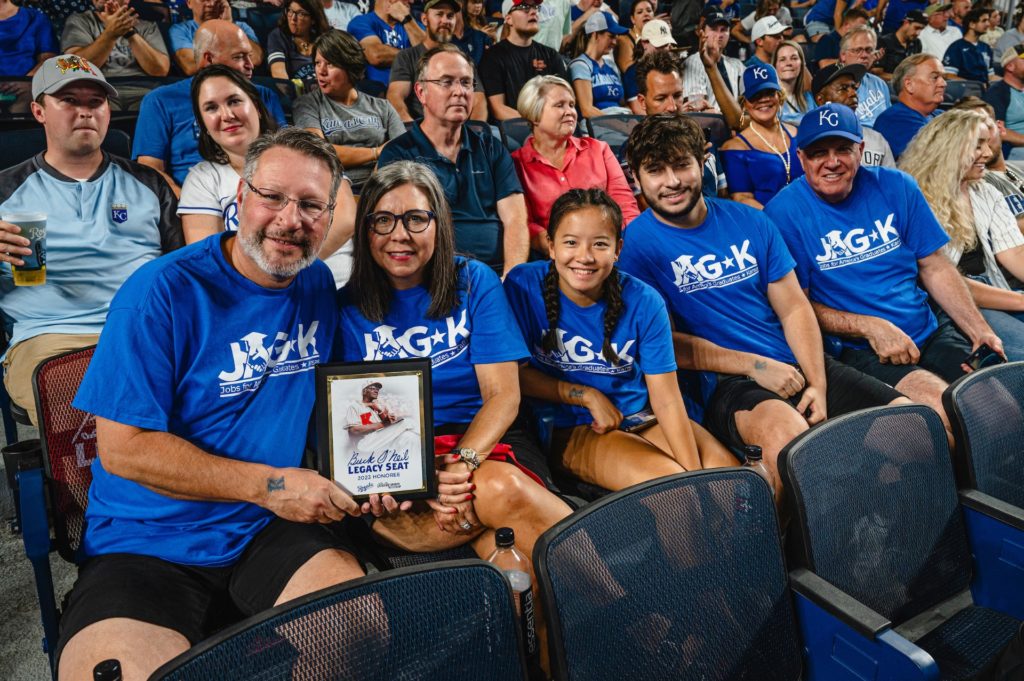 During an interview with Bally Sports Kansas City, Knapp highlighted the work being done through the JAG-K program. Then in the second inning, Knapp was featured for his commitment to the community while sitting in the Buck O'Neil Legacy Seat.
In 2007, the Royals dedicated a seat behind home plate to the memory of Negro League player and longtime coach and scout Buck O'Neil who became a Kansas City celebrity prior to his death in 2006. Each home game, the Royals honor guests who make a significant contribution to the community by featuring them in the seat O'Neil occupied while scouting.
"It was a tremendous honor to sit in a seat that celebrates the legacy of Buck O'Neil and simultaneously recognized the good work of our JAG-K team," Knapp said. "We appreciate the Kansas City Royals and Royals Charities for a special night and their ongoing partnership with JAG-K."
Click to see video of Knapp in the Buck O'Neil Legacy Seat
The invitation to the game was the latest in Royals Charities' efforts to support JAG-K. In the spring, Royals Charities donated "professional dress" blazers, dress pants and skirts, shoes, socks and belts to the 16 JAG-K regional and state officers.
Each year, JAG-K students elect officers to head their Career Association. These leaders meet with legislators and business leaders, speak to school and civic groups and lead student events. Many of the students cannot afford professional clothing suitable for such events.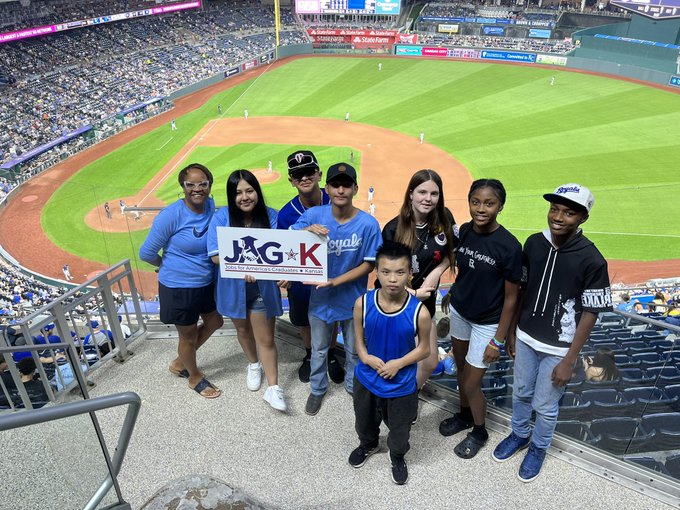 "Education is a key focus when it comes to the work being done by Royals Charities," said Amy Gale, Senior Director of Community Impact and Executive Director of Royals Charities. "We applaud the work being done by JAG-K as they work to truly set students up for success after high school."
About Royals Charities:
The Kansas City Royals and Royals Charities are committed to driving game-changing impact in our Kansas City community. Created in 2001, Royals Charities supports education and literacy efforts, promotes physical activity and access to youth baseball and softball programs, uplifts our veterans and military families, and more. To date, Royals Charities has donated more than $23 million in grants, including $3 million in 2022.
About JAG-K:
JAG-K is a multi-year, in-school program for students in grades 6-12 that offers tools to successfully transition students into post-secondary school, the military, or directly into the workforce with marketable skills. JAG-K provides opportunities for students to explore careers through employer engagement relationships. Those experiences may include field trips, job shadows, internships and summer or part-time employment.
Kansas' 113 JAG-K programs, which serve approximately 6,000 students in 48 school districts across the state, reports a graduation rate of 96 percent over the past four years.
The 501(c)3 not-for-profit organization is a state affiliate of the national JAG program network which operates in 38 different states and territories. It is primarily funded through the Temporary Assistance for Needy Families block grant to the State of Kansas administered by the Kansas Department for Children and Families (DCF). In addition to school districts and DCF, JAG-K partners with the Kansas Department of Education. Other JAG-K funding sources include ADM, AT&T, EagleU, Evergy, Goldstein Charitable Trust, the JB and Anne Hodgdon Foundation, John Deere, the Kansas Chamber of Commerce, Kansas Gas Service, the Kansas Insurance Department, the Kansas State Bank Commissioner, Royals Charities, Synchrony Financial, the Taco Bell Foundation, the City of Topeka, United Way of the Plains and Walmart.
To learn more about JAG-K, visit www.jagkansas.org, 'Jobs for America's Graduates-Kansas' on Facebook, and on Twitter at @JAG_Kansas.