News Release: Former JAG-K Student Now Passes On Lessons Learned
When the Jobs for America's Graduates–Kansas (JAG-K) program at F.L. Schlagle High School in Kansas City needed a new Career Specialist, it found a candidate familiar with the program because she was a product of JAG-K herself.
The evidence-based program helps students prepare for post-secondary education and employment opportunities. JAG-K programs across the state, serving approximately 6,000 students, reports a graduation rate of 96 percent over the past four years.
One of those graduates – 2019 Basehor-Linwood High School grad Kyleigh Raun – filled the vacancy at F.L. Schlagle last spring and began passing on the lessons she learned in JAG-K and as well as in the workplace.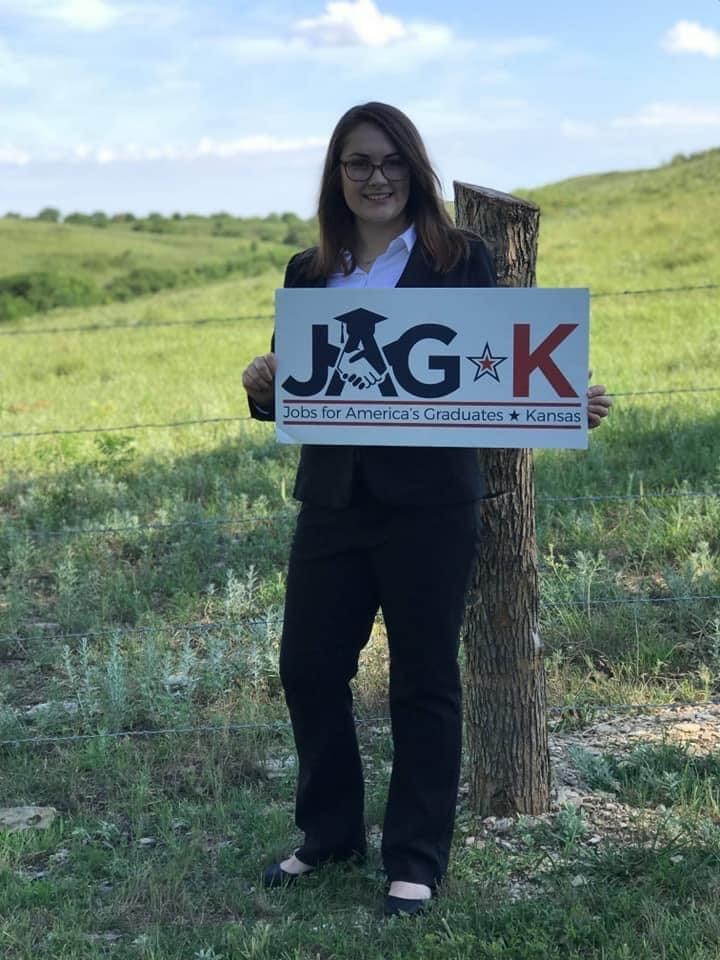 Raun participated in the JAG-K program at Basehor-Linwood for three years. She said it helped her succeed in school and prepared her for life after graduation.
"I had a ton of distractions that made high school tough for me. JAG-K really helped get me focused," Raun said. "My specialist saw things in me that I didn't see in myself, and she knew how to stay on top of me and push me further than I would have gone by myself."
After graduating high school, Raun took a job at a Kansas City-area business and thrived. After just a few months working in the company's warehouse, she was promoted. She spent two years with the company in the logistics and accounting departments.
JAG-K is a multi-year, in-school program for students in grades 6-12 that offers tools to successfully transition students into post-secondary school, the military, or directly into the workforce with marketable skills.
Raun believes that gaining work experience before going to post-secondary education is something students should consider.
"Taking time to work before going to college can give you time to find out what kind of person you are in the 'real world,' and what kind of work you like," Raun said. "Then you can pick a better direction for you. There are plenty of places where you can get on-the-job training that will equip you to work your way up from entry level to management positions."
JAG-K provides opportunities for students to explore careers through employer engagement relationships. Those experiences may include field trips, job shadows, internships and summer or part-time employment. It helps students develop the 'soft skills' necessary to succeed in the workplace. And it equips them with the resume, application and interview tools needed to enter the workforce.
"I gained employability skills from JAG-K," Raun said. "It helped me learn how to use my natural ability to communicate in a way that helps in the workplace. I learned how to prepare a resume and cover letter that is customized for every job, and I improved my interview skills."
Raun is not just teaching students. She is setting an example for them. While working full time as a JAG-K Career Specialist, she is taking college courses in WHAT at Kansas City Community College in her spare time.
"The most important thing that I can give to students is confidence," Raun said. "A lot of life is how you present yourself, and JAG-K helps students feel confident in what they have to offer. Then we help them learn how to back up their presentation with their work and their actions."
JAG-K is a multi-year, in-school program for students in grades 6-12 that offers tools to successfully transition students into post-secondary school, the military, or directly into the workforce with marketable skills. Participants in the program face multiple barriers to success that their JAG-K Career Specialist helps them overcome through a nationally-accredited, evidence-based model.
The 501(c)3 not-for-profit organization is a state affiliate of the national JAG program network which operates in 38 different states and territories. It is primarily funded through the Temporary Assistance for Needy Families block grant to the State of Kansas administered by the Kansas Department for Children and Families (DCF). In addition to school districts and DCF, JAG-K partners with the Kansas Department of Education. Other JAG-K funding sources include ADM, AT&T, EagleU, Evergy, Goldstein Charitable Trust, the JB and Anne Hodgdon Foundation, John Deere, the Kansas Chamber of Commerce, Kansas Gas Service, the Kansas Insurance Department, the Kansas State Bank Commissioner, Royals Charities, Synchrony Financial, the Taco Bell Foundation, the City of Topeka, United Way of the Plains and Walmart.
To learn more about JAG-K, visit www.jagkansas.org, 'Jobs for America's Graduates-Kansas' on Facebook, and on Twitter at @JAG_Kansas.