Kiowa County High School Student Receives JAG-K Scholarship Memorializing Former Sen. Bud Estes
Liberty Gilkey, a senior at Kiowa County High School, was announced Wednesday as recipient of the second annual Jobs for America's Graduates-Kansas (JAG-K) Bud Estes Memorial Scholarship honoring the memory of the late Kansas state senator from Dodge City.
Gilkey will receive $1,000 to apply toward college expenses. She was informed of the award Wednesday at the JAG-K Career Development Conference at McPherson College.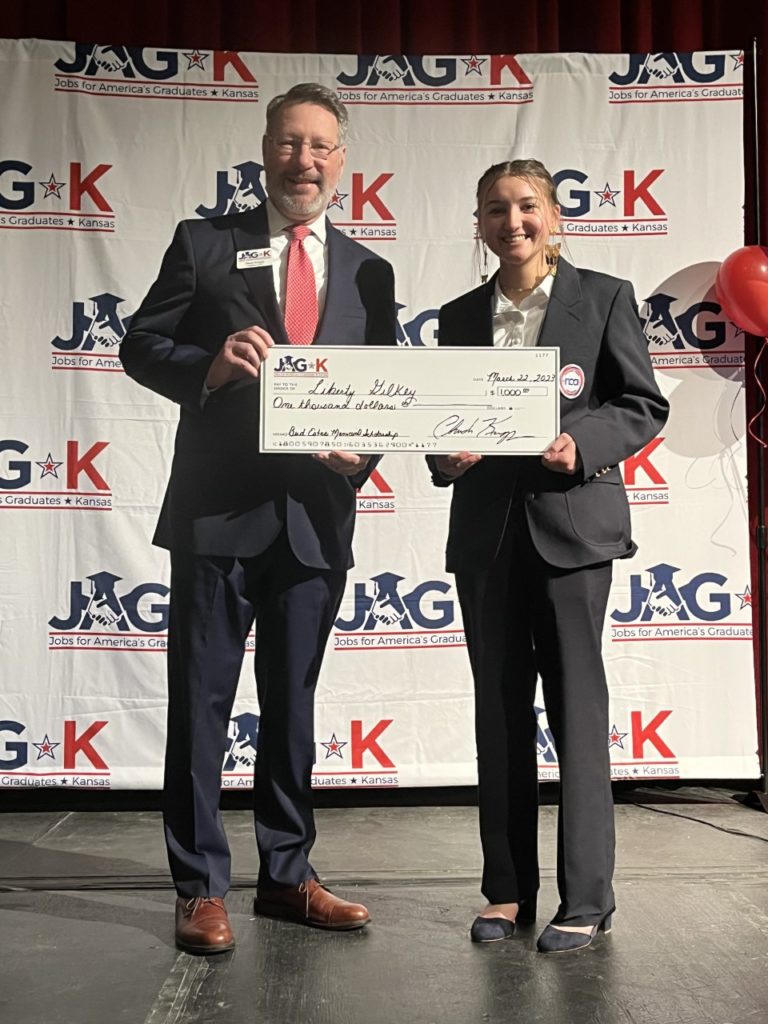 A member of the JAG-K Board of Directors and one of the program's most avid supporters, Estes passed away in February of 2021 following a long illness. Estes served in the Kansas Legislature from 2012 until his passing.
"We are pleased to honor the memory of Senator Estes with this annual scholarship," said JAG-K President/CEO Chuck Knapp. "There was not a stronger champion for JAG-K than Bud Estes. He was dedicated to ensuring a great future for Kansas, and his work with our organization showed how passionate and selfless he was."
Kansas' 104 JAG-K programs, which serve more than 5,500 students in 49 school districts across the state, reports a graduation rate of 97 percent over the past five years. Many of JAG-K's students attend college, overcoming barriers that might otherwise have kept them from succeeding in school.
A participant in the Kiowa County High School JAG-K program for four years, Gilkey currently serves as the vice president of the statewide student Career Association of JAG-K, as well as president of the program at her high school.
"I was honestly surprised. I'm so excited." Gilkey said. "It's going to help a lot with the expenses of college. I'm really thankful for the family of Bud Estes for all that they've done to help students."
Gilkey's high school in Greensburg is located just 45 miles from Estes' hometown. The Bud Estes scholarship is awarded to a student who expresses an interest in public service. Gilkey plans to attend Wichita State to study psychology and is considering a future in public service.
"The growth Liberty has shown throughout her high school career is because she has intentionally stepped outside of her comfort zone to challenge herself," said Kiowa County High School JAG-K career specialist Marcus Mitchell. "Liberty's positive attitude, communication skills, and ability to connect with others are what make her a great leader in today's world. Liberty is a special student that has benefited from several unique opportunities that JAG-K provides for its students, and I am thrilled she was the recipient of the Bud Estes Memorial Scholarship."
JAG-K is a multi-year, in-school program for students in grades 6-12 that offers tools to successfully transition students into post-secondary school, the military, or directly into the workforce with marketable skills. Participants in the program face multiple barriers to success that their JAG-K Career Specialist helps them overcome through a nationally-accredited, evidence-based model.
The 501(c)3 not-for-profit organization is a state affiliate of the national JAG program network which operates in 38 different states and territories. It is primarily funded through the Temporary Assistance for Needy Families block grant to the State of Kansas administered by the Kansas Department for Children and Families (DCF). In addition to school districts and DCF, JAG-K partners with the Kansas Department of Education. Other JAG-K funding sources include ADM, AT&T, EagleU, Evergy, Goldstein Charitable Trust, the JB and Anne Hodgdon Foundation, John Deere, the Kansas Chamber of Commerce, Kansas Gas Service, the Kansas Insurance Department, the Kansas State Bank Commissioner, Royals Charities, Synchrony Financial, the Taco Bell Foundation, the City of Topeka, United Way of the Plains and Walmart.
To learn more about JAG-K, visit www.jagkansas.org, 'Jobs for America's Graduates-Kansas' on Facebook, and on Twitter at @JAG_Kansas.