JOBS FOR AMERICA'S GRADUATES – KANSAS STUDENTS TAKE HOME AWARDS AT FIRST EVER MULTI-STATE CONFERENCE
5 of 14 national qualifying JAG-K students place in top three of their event at June 18 competition
KANSAS CITY— In a first-of-its-kind event, three Jobs for America's Graduates (JAG) State Affiliates partnered to hold a Midwest Regional Career Development Conference on June 18, 2019, which was organized similar to the State Career Development Conference (CDC). Each state brought their national qualifying students who were determined earlier this year. During the Conference, the 42 students heard from Dan Meers, KC Wolf, and Kenneth Smith, JAG President and CEO.
The JAG-K national qualifiers competed in four events: project-based learning, mathematics, public speaking, and employability skills. The Midwest CDC acted as a preliminary event to the National Student Leadership Academy (NSLA) in Washington, D.C. this fall. NSLA is an all-expense paid experience where students will compete against JAG programs from across the country.
At the conclusion of the conference, students were awarded medals for placing in the top three of each event.
JAG-K Awards
Public Speaking: Chrishayla Adams, Topeka HS, 1st place
Employability Skills: Katelyn Laxton, Turner HS, 3rd place
Project Based Learning: Vianca Esquival, Garden City HS, 1st place; Brooklyn Fondaw, Basehor-Linwood HS, 2nd place; Lacey Winter, Pratt HS, 3rd place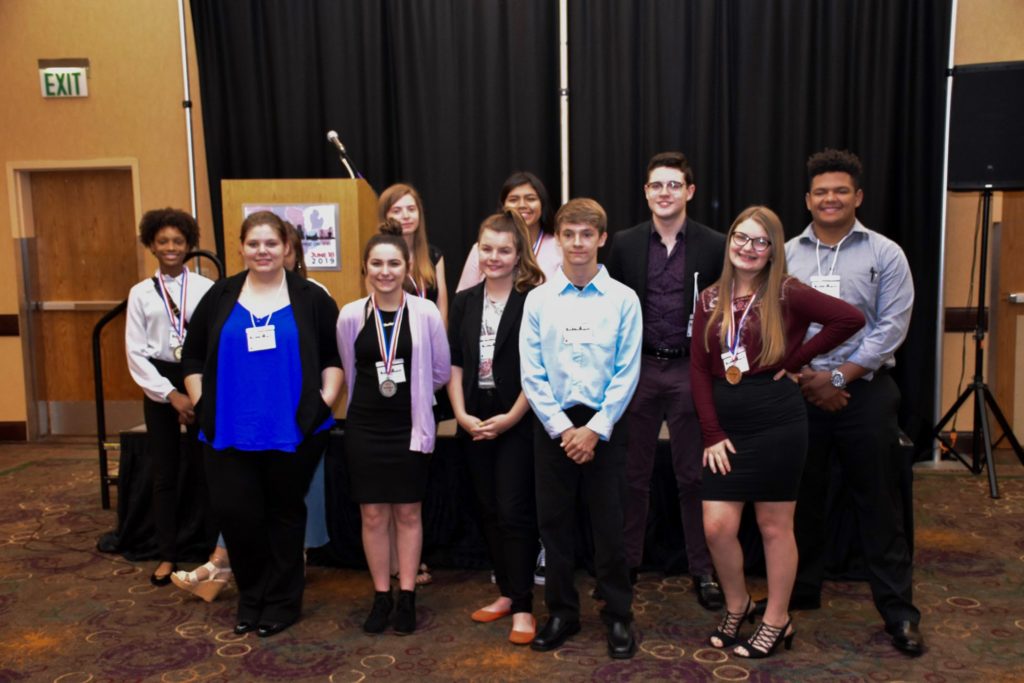 About JAG-K
JAG-K is a multi-year, in-school program for students in grades seven through 12, that offers tools to successfully transition students into post-secondary school, the military, or directly into the workforce with marketable skills. Participants in the program face multiple barriers to success that their JAG-K Career Specialist helps them overcome through a nationally accredited evidence-based model. In 2018, students in JAG-K achieved a 98 percent graduation rate state-wide.
The 501(c) 3 not-for-profit organization is one of 35 state affiliate organizations of Jobs for America's Graduates. Brought to Kansas in 2013, JAG-K is primarily funded through the Temporary Assistance for Needy Families (TANF) block grant to the State of Kansas administered by the Kansas Department for Children and Families (DCF). In addition to school districts and DCF, JAG-K partners with the Kansas Department of Education. Other JAG-K funding sources include AT&T, AT&T Kansas, John Deere Coffeyville Works, and Taco Bell.
 To learn more about JAG-K visit, www.jagkansas.org, on Facebook, 'Jobs for America's Graduates- Kansas', and on twitter, @JAG_Kansas. To learn more about poverty prevention programs funded by DCF, visit www.dcf.ks.gov.  
###