JAG-K STUDENTS COMPETE AT STATE CAREER DEVELOPMENT CONFERENCE
Over 80 middle school students compete against each other in career-focused events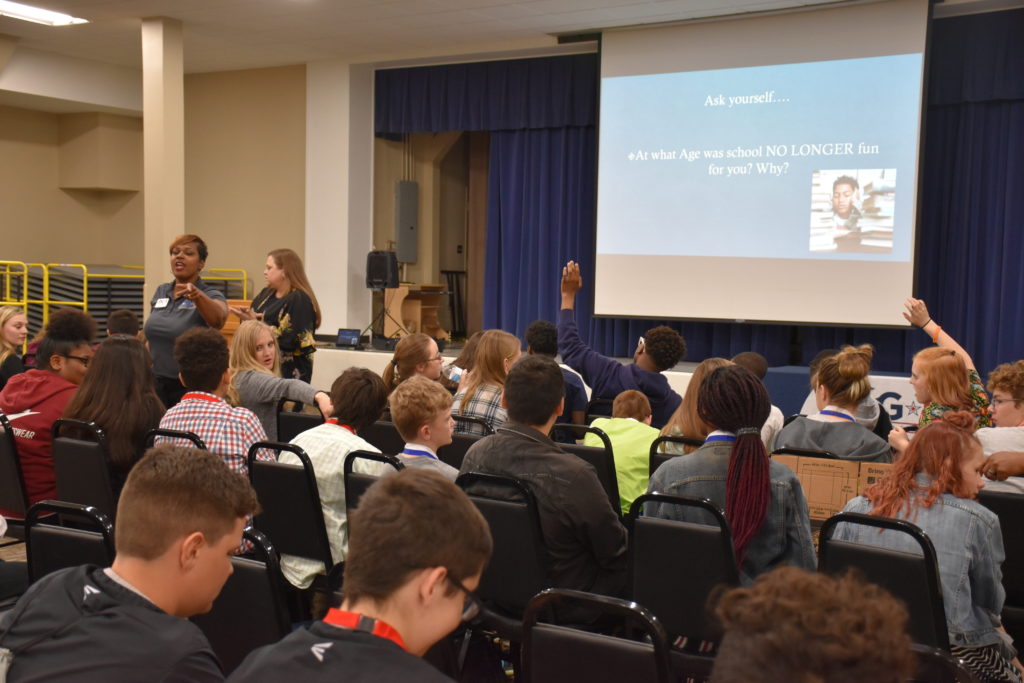 TOPEKA (April 23, 2019) — Jobs for America's Graduates – Kansas (JAG-K) hosted more than 80 JAG-K middle school students from across Kansas at its annual State Career Development Conference (CDC) in Salina on April 18.
The students competed in varying categories that showcase competencies attained in the JAG-K program. JAG-K operates a majority of its programs in high schools throughout Kansas with only nine of the 81 programs serving middle school students. In addition to the middle school event, the JAG-K multi-year high school programs also held their annual CDC in Salina on April 17. Top placing high school students qualified to attend the National Student Leadership Academy in Washington, D.C. Middle school students competed in project-based learning, public speaking, mathematics, entrepreneurial skills, community service, and employability.
They also submitted projects for videography, advertising poster design, academic scrapbook, and art. Teams were also awarded recognition based on their overall performance. The top three teams came from Shawnee Mission Hocker Grove Middle School (1st), Turner Middle School (2nd), and Kiowa County Junior High (3rd).
The top placing students in each category, listed from 1st to 3rd, are as follows:
Project-Based Learning: Tatyana G. and Aavon B. (Ft. Riley/Junction City), Jacob S. and Calvin D. (Turner), Azaria P. (Newton Chisholm)
Public Speaking: Jace M. (Kiowa Co.), Hailee B. (Hutchinson), Lucas M. (Hocker Grove)
Mathematics: Jose L. (Hutchinson), Daimein P. (Hocker Grove), Albert C. (Winfield)
Entrepreneurial Skills: Alex W. (Kiowa Co.), Spencer D. and Thurston R. (Hocker Grove), Kate S. (Turner)
Community Service: Judy R. and Alex R. (Kiowa Co.), Baylee D. and Payten B. (Hocker Grove), K'Siyah W. and Fernando G. (Turner)
Employability: Ivory S. (Turner), Justin G. (Hocker Grove), Jordyn S. (Kiowa Co.)
Videography: Treyvn S. (Winfield), Daimein P. (Hocker Grove), DK F. (Turner)
Poster Design: Daimein P. (Hocker Grove), Kyson W. (Winfield), Calvin D. (Turner)
Scrapbook: Payten B. (Hocker Grove), Crystal D. (Turner), Estrella M. (Newton Chisholm)
Art: Brooke T. (Hutchinson Middle), Jeff F. (Turner Middle), Riley D. (Hocker Grove Middle)
JAG-K is a multi-year, in-school program for students in grades seven through 12, that offers tools to successfully transition students into post-secondary school, the military, or directly into the workforce with marketable skills. Participants in the program face multiple barriers to success that their JAG-K Career Specialist helps them overcome through a nationally accredited evidence-based model. In 2017, JAG-K students had a 98 percent graduation rate. 
The 501(c) 3 not-for-profit organization is one of 35 state affiliate organizations of Jobs for America's Graduates. Brought to Kansas in 2013, JAG-K is primarily funded through the Temporary Assistance for Needy Families (TANF) block grant to the State of Kansas administered by the Kansas Department for Children and Families (DCF). In addition to school districts and DCF, JAG-K partners with the Kansas Department of Education. Other JAG-K funding sources include AT&T, AT&T Kansas, John Deere Coffeyville Works, and Taco Bell.  
To learn more about JAG-K visit, www.jagkansas.org, on Facebook, 'Jobs for America's Graduates- Kansas', and on twitter, @JAG_Kansas. To learn more about poverty prevention programs funded by DCF, visit www.dcf.ks.gov.  
###