News Release: JAG-K Students Attend Leadership Development Conference at Kansas State University
More than 400 Jobs for America's Graduates-Kansas (JAG-K) students and staff gathered at Kansas State University this week for leadership development and inspiration from some of the organizations' foremost supporters.
Elected officers from the state's 113 JAG-K programs were invited to participate in the organization's annual Leadership Development Conference (LDC) in the Student Union at Kansas State on Oct. 11, an event sponsored by ADM. Students participated in workshops and training activities and listened to speakers on effective leadership.
"We put great emphasis on student leadership in our local programs," said JAG-K President/CEO Chuck Knapp. "LDC is a highlight of every year because it brings together student leaders from across the state to an event that allows them to network and gain skills to further develop their leadership abilities."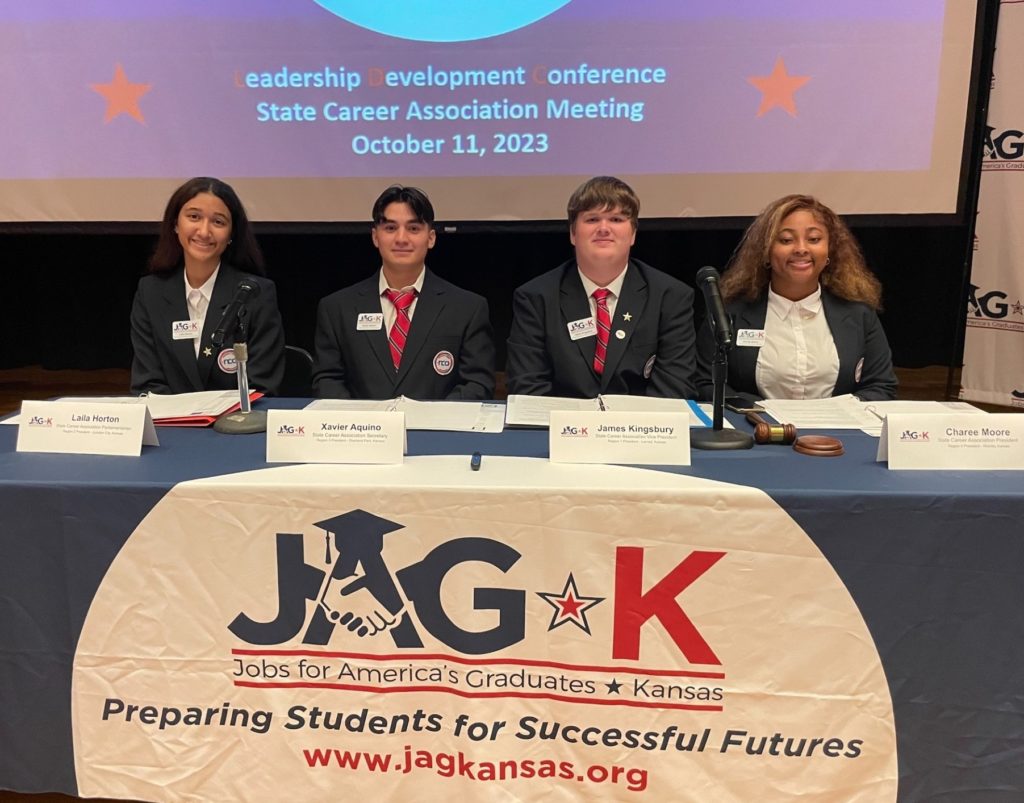 Conducting the official meetings were the newly elected Career Association officers for the 2023-2024 school year: President Charee Moore, Wichita Southeast; Vice President James Kingsbury, Larned; Secretary, Xavier Aquino, Shawnee Mission North; Parliamentarian Laila Horton, Junction City.
The LDC event equips elected officers from each program to more effectively guide the Career Association at their respective schools. The student-led Career Associations link JAG-K participants to those from other schools, uniting them for development and service opportunities.
In student-guided workshops, the officers learned how to conduct meetings, cast vision and involve members of their respective programs.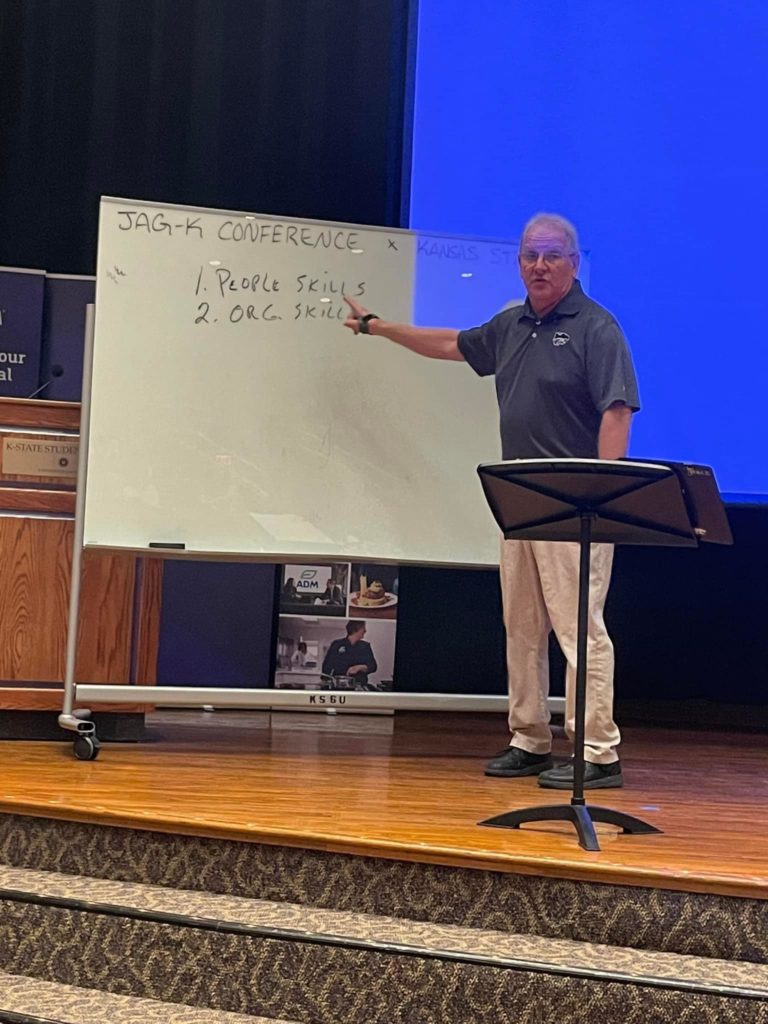 The keynote address was delivered by Dr. Frank Tracz, Professor of Music and Director of Bands at Kansas State University. He encouraged the gathering of Career Association officers to develop the skills necessary to lead, both in their schools and in future endeavors.
Click to watch Tracz' keynote message at Leadership Development Conference
Also addressing the leadership conference was Kevin Like, retired Vice President of Strategic Accounts at ADM and a member of the JAG-K Board of Directors. Like described his rise from rural poverty to be the first of his family to graduate from college. ADM has donated $65,000 to JAG-K over the past three years.
Click to watch Like's message at Leadership Development Conference
JAG-K is a multi-year, in-school program for students in grades 6-12 that offers tools to successfully transition students into post-secondary school, the military, or directly into the workforce with marketable skills. Participants in the program face multiple barriers to success that their JAG-K Career Specialist helps them overcome through a nationally-accredited, evidence-based model.
The 501(c)3 not-for-profit organization is a state affiliate of the national JAG program network which operates in 38 different states and territories. It is primarily funded through the Temporary Assistance for Needy Families block grant to the State of Kansas administered by the Kansas Department for Children and Families (DCF). In addition to school districts and DCF, JAG-K partners with the Kansas Department of Education. Other JAG-K funding sources include ADM, AT&T, EagleU, Evergy, Goldstein Charitable Trust, the JB and Anne Hodgdon Foundation, John Deere, the Kansas Chamber of Commerce, Kansas Gas Service, the Kansas Insurance Department, the Kansas State Bank Commissioner, Royals Charities, Synchrony Financial, the Taco Bell Foundation, the City of Topeka, United Way of the Plains and Walmart.
To learn more about JAG-K, visit www.jagkansas.org, 'Jobs for America's Graduates-Kansas' on Facebook, and on Twitter at @JAG_Kansas.