JAG-K STUDENT COMPETES AT NATIONAL STUDENT LEADERSHIP ACADEMY
<![CDATA[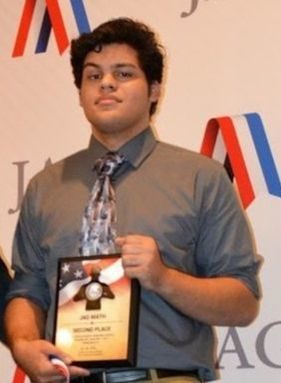 TOPEKA (December 20, 2017) – Jason Mitchiner Jr., a senior at Topeka High School, earned second place in the national Math Skills competition at the 21st Annual JAG National Student Leadership Academy (NSLA) held in Washington D.C. on November 29-December 1, 2017.
The Math Skills competition is designed to encourage JAG students to improve their ability to identify, solve, and apply mathematical principles. The 50-question written exam had a 60-minute time limit and did not allow the use of a calculator. Mitchiner became eligible to compete at NSLA by finishing first in the state of Kansas in the Math Skills competition at the statewide Jobs for America's Graduates-Kansas (JAG-K) Leadership Development Conference in October.
Jason participates in the program at Topeka High School where Teresa Leslie-Canty is the Career Specialist.
"It has been a joy to watch Jason grow and mature as a member of JAG-K. He is an excellent ambassador for Topeka High School and JAG-K, and I know someday he will be an excellent teacher," said Chuck Knapp, President/CEO of JAG-K.
JAG-K is a 501(c)3 not-for-profit organization that partners with 33 Kansas school districts to prepare students for successful futures. It is primarily funded with a federal grant administered by the Kansas Department for Children and Families. JAG-K, in its fifth year in Kansas, is an affiliate of the national JAG program that operates in 34 states. Anyone interested in more information about JAG-K may visit the website www.jagkansas.org
###