JAG-K PROGRAMS EARN TOP NATIONAL HONOR
<![CDATA[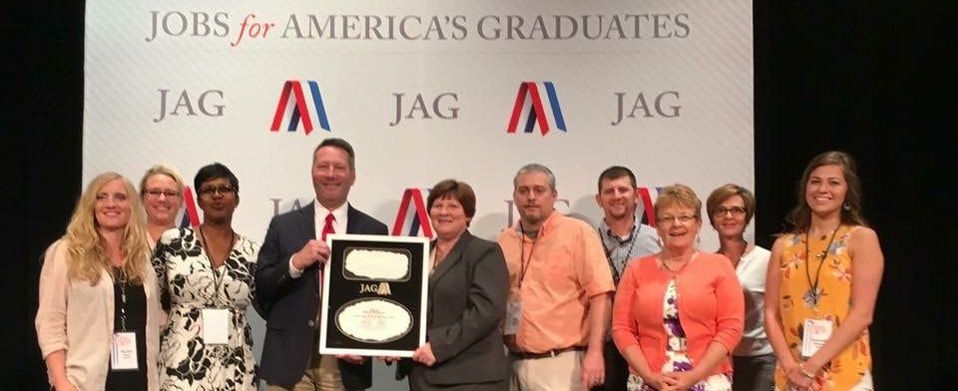 KANSAS (August 16, 2017) – Jobs for America's Graduates-Kansas (JAG-K) announced that 30 of 43 eligible JAG-K programs earned the Jobs for America's Graduates "5 of 5 Award" for 2016.
The 5 of 5 Award is bestowed upon those JAG programs that meet or exceed the performance measures in five categories: graduation rate, successful outcomes, employment, post-secondary enrollment, and job placement. JAG has a 12-month follow-up period with all seniors as part of its successful research-based, data-driven national model. JAG-K students had a graduation rate of 93 percent in 2016. The overall 4-year cohort graduation rate for Kansas graduates in 2016 was 86 percent.
"We are excited but not surprised that Kansas students are clearly benefitting from the JAG-K program," said JAG-K President/CEO Chuck Knapp. "The JAG model has proven that all students, regardless of barriers, can be successful leaders and reach their full potential. We continue to strive to reach a 100 percent graduation rate in JAG-K and look forward to working closely with our school partners in achieving this goal."
​JAG-K is a 501(c)3 not-for-profit organization that partners with students facing various barriers to success, helping them graduate high school and then on to a successful career path. JAG-K served more than 2,800 students in 2017 and will expand to 69 programs in 32 Kansas school districts in 2017-18, including new programs in Augusta, Great Bend, and Shawnee Mission.
Knapp indicated there is more demand for the program than available resources.
Funding for the program primarily comes from Temporary Assistance for Needy Families (TANF) dollars, administered by the Kansas Department for Children and Families. JAG-K is an affiliate of the national JAG program that operates in 35 states and territories. In addition to school districts, JAG-K partners with DCF and the Kansas State Department of Education. JAG-K also relies on private funds from contributors including AT&T, Archer Daniels Midland Company, John Deere and Amerigroup Foundation.
Anyone interested in more information about JAG-K may visit the website at www.jagkansas.org.
###