JAG-K HOSTS ANNUAL STATEWIDE LEADERSHIP DEVELOPMENT CONFERENCE
S

tudents compete for an opportunity to advance to the national competition in Washington, D.C.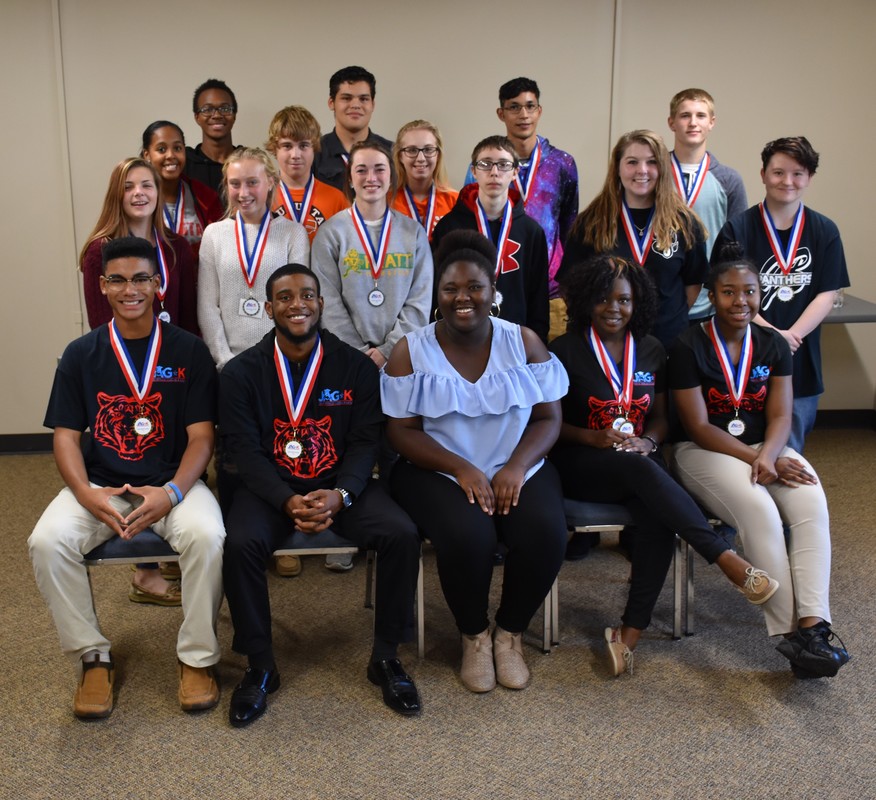 KANSAS (October 19, 2017) – More than 200 students representing 68 JAG-K programs traveled to Salina to participate in a two-day Leadership Development Conference. The conference featured competitions in Employability Skills, Math Skills, Project Based Learning, and Public Speaking. Winners of the competitions, pictured below, will travel to Washington, D.C. to compete in the JAG National Student Leadership Academy (NSLA) in November.
Project Based Learning 1. Washington High School:  Amiel Green, Tajanea Polk, Ja'Tai Matthews, Tyron Harris 2. Junction City Freshman Success Academy:  Destiny Wilson, Sierra Garner 3.  Augusta High School:  Brandon Bond, Brittney Cairns  
Public Speaking 1.  Cierra Wood – Great Bend High School 2. Meredith Queal – Pratt High School 3. Josie DeCoster – Turner High School  
Math Skills 1. Jason Mitchiner Jr. – Topeka High School 2. Allen Roberts – Pratt High School 3. Jamie Aguirre – Wichita West High School  
Employability 1. Tajanea Polk – Washington High School 2. Gabriel Smith – Lawrence Free State High School 3. Whitney Mayberry – Wichita North High School  
2017-2018 Career Association Officers: President Linda Moyo of Newton High School; Vice President Tyrese DeLaCruz of Field Kindley High School; and Secretary Tyron Harris of Washington High School. These students will also travel to NSLA.
The conference was held at the National Guard Regional Training Site-Maintenance. Students were provided facilities tours and experienced simulators. In addition to competitions, students attended workshops and heard from Dr. Blake Flanders, President & CEO, Kansas Board of Regents and inspirational speaker Matt Bennett.
###