News Release: JAG-K Connects With Banking Professionals to Learn About Careers, Financial Literacy
Members of the Kansas Bankers Association (KBA) teamed up with Jobs for America's Graduates-Kansas (JAG-K) this week to educate students about opportunities in the banking industry as well as tips on financial literacy.
"JAG-K Week with the KBA," April 10-14, was observed by JAG-K programs throughout the state in collaboration with banks in their respective areas. Employees of participating banks visited local JAG-K classes in person or virtually or hosted groups for visits to their facilities.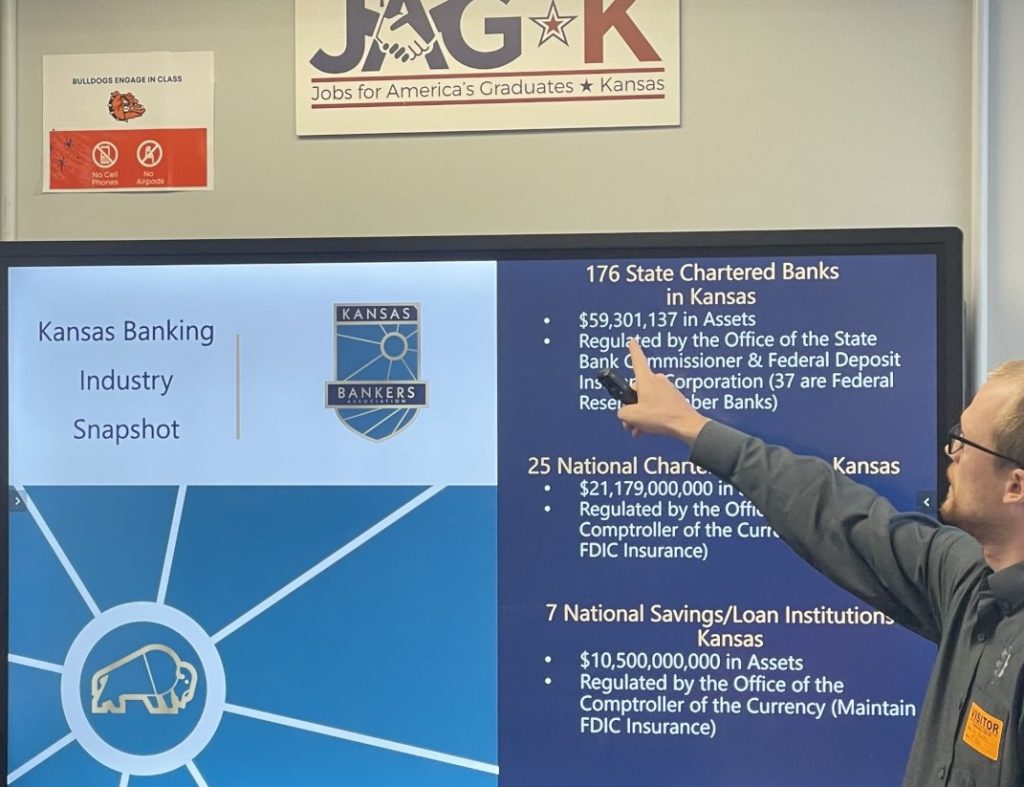 One of the responsibilities of JAG-K is the instruction of sound financial management to its participants, 75 percent of whom qualify for free or subsidized lunches.
April is both community banking month and financial literacy month. For the second year, JAG-K linked arms with members of the KBA for the week-long connection to local financial institutions. Representatives of the KBA emphasized the need to develop future employees in the field of banking.
Kansas bankers understand the importance of engagement and involvement in their local communities, specifically the youth," said Alex Orel, KBA Senior Vice President-Government Relations. "The youth is our next generation, and we must do our part to help prepare them to lead someday. Teaching them about financial literacy and the many careers within the banking industry is directly tied to helping our communities thrive now and for many years to come."
Through interactions with banking professionals, students learned about the many career opportunities in the financial industry. They also were introduced to the tools made available to them by financial institutions.
Students at Minneapolis High School were visited by a former student of the school, Owen Kindall, Vice President at Citizens State Bank and Trust, Ellsworth. Kindall works at the bank's Minneapolis and Delphos locations. The 2003 graduate of Minneapolis High School shared information with the JAG-K students about various bank accounts, loans, car expenses, interest rates.
"Having Owen visit was a fantastic experience for our students," said Minneapolis career specialist Jay Macy. "Owen is very active in our community and supports our youth in many ways. His presentation was very on target and gave the students great information to put to use as they mature into new stages of life and finances."
JAG-K is a multi-year, in-school program for students in grades 6-12 that offers tools to successfully transition students into post-secondary school, the military, or directly into the workforce with marketable skills. Participants in the program face multiple barriers to success that their JAG-K Career Specialist helps them overcome through a nationally-accredited, evidence-based model.
The 501(c)3 not-for-profit organization is a state affiliate of the national JAG program network which operates in 38 different states and territories. It is primarily funded through the Temporary Assistance for Needy Families block grant to the State of Kansas administered by the Kansas Department for Children and Families (DCF). In addition to school districts and DCF, JAG-K partners with the Kansas Department of Education. Other JAG-K funding sources include ADM, AT&T, EagleU, Evergy, Goldstein Charitable Trust, the JB and Anne Hodgdon Foundation, John Deere, the Kansas Chamber of Commerce, Kansas Gas Service, the Kansas Insurance Department, the Kansas State Bank Commissioner, Royals Charities, Synchrony Financial, the Taco Bell Foundation, the City of Topeka, United Way of the Plains and Walmart.
To learn more about JAG-K, visit www.jagkansas.org, 'Jobs for America's Graduates-Kansas' on Facebook, and on Twitter at @JAG_Kansas.