JAG-K brings National Championship back from Washington, D.C.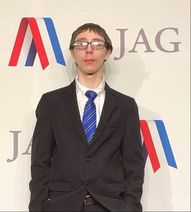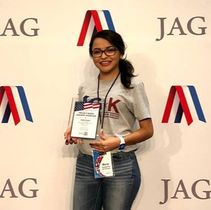 TOPEKA – Allen Roberts, a senior in the Pratt High School Jobs for America's Graduates-Kansas (JAG-K) program, was confident he had done well in the math skills competition at the Jobs for America's Graduates (JAG) National Student Leadership Academy (NSLA) in Washington, D.C. It was his second year to compete at the national level, and he felt more comfortable than last year. However, even he was a little surprised when he was announced as the JAG national champion in the event.
"I thought maybe I might get third," said Roberts. "I had a strategy for completing all 50 questions, and I felt good about my answers."
Roberts is the first JAG-K national champion and the third JAG-K student in history to place at the national event, which was held the week of November 12, 2018 in the nation's capital.
Maria Camacho-Rosales earned third place in the project based learning competition this year. She is a senior in the Liberal High School Program. Jason Mitchiner of Topeka High School was the first JAG-K student to place at NSLA in 2017.
JAG-K President and CEO Chuck Knapp said having students place in the competition is a bonus to an already special opportunity for the students.
"I am proud of all 13 of our competitors and our Statewide Career Association officers," said Knapp. "They had to compete in at least two other events and place just to qualify for NSLA. With more than 650 students from across the country participating in Washington, placing is an amazing accomplishment, but so is getting there."
The JAG-K students earned the all-expense paid trip by finishing in the top three in one of four skills competitions at the JAG-K State Career Development Conference held at Emporia State University last April. The skills competitions were: Employability Skills; Math Skills, Project Based Learning, and Public Speaking. Three statewide JAG-K Career Association leaders were elected at the October Leadership Development Conference held at Kansas State University in Manhattan and also earned a position on the national team.
​Students at the NSLA not only competed, they attended leadership workshops and had the opportunity to tour familiar monuments and museums in the nation's capital.
The JAG-K students were able to spend one entire day touring the White House, the Supreme Court and the U.S. Capitol.
2018 JAG-K National Student Leadership Academy Team
Employability Skills
Kyleigh Raun, Basehor-Linwood High School; Rebeka Hittle, Junction City Freshman Success Academy; Keesis Potts, Royal Valley High School
Math Skills:
Allen Roberts, Pratt High School; Eddie Lee, Emporia High School; Glenn Muriithi, Turner High School
Public Speaking
Meredith Queal, Pratt High School; Macy Garner, Basehor-Linwood High School; Kira Sheppard, Hutchinson High School
Project Based Learning Showcase
Maria Camacho, Liberal High School;
Montana Lazelle & Paycie Hopkins, Winfield High School;
David Santos, Wyandotte High School
State Career Association Officers ​Sebastian Martinez, President, Salina South High School;
Jacob Greene, Secretary, Wichita Southeast High School
The Kansas Department for Children and Families (DCF) is the primary sponsor of the JAG-K team and funds most of the expenses related to the event.
JAG-K is an in-school program that helps students prepare for successful futures. The evidence-based JAG model includes small class sizes, the use of project based learning to introduce and master the 87 JAG competencies, 12-month student engagement, and a 12-month follow-up period for all JAG-K seniors.
JAG-K has 81 programs in 65 Kansas public schools, 38 school districts and serves approximately 3,800 students. JAG-K is an affiliate of the national JAG program that operates in 35 states and territories. The 38-year old national program has assisted more than one million students nationwide. The JAG-K graduation rate last year was 98 percent.
In addition to public schools, JAG-K partners with DCF and the Kansas State Department of Education. Funding for the program primarily comes from the federal Temporary Assistance for Needy Families (TANF) block grant to the state, administered by DCF. JAG-K also relies on private funds from investors including Aetna Foundation, AT&T, Archer Daniels Midland Company, Cox Communications and John Deere Coffeyville Works. 
###