Great Bend High School Senior Receives National JAG Scholarship
Ashley Reddig, a senior at Great Bend High School, was announced recently by Jobs for America's Graduates (JAG) as one of 35 Kenneth M. Smith Scholars nationwide who will receive $2,000 toward their college education.
The scholarship program honors the extraordinary leadership and 43 years of service of the first and only President and CEO of Jobs for America's Graduates, Inc., Ken Smith.
Reddig, who plans to study nursing at Kansas University upon graduation, was elated by the news, which she received at school recently.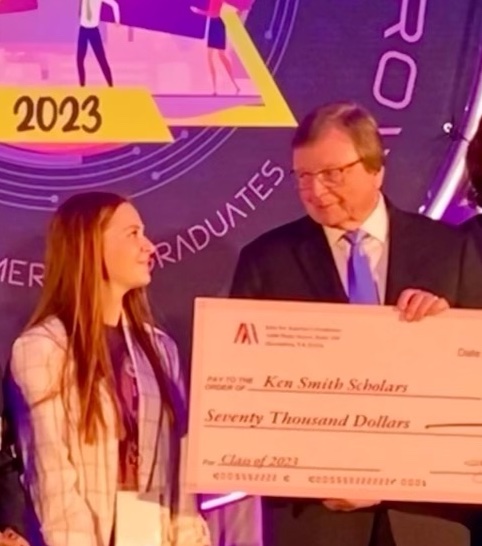 "I was ecstatic. When I opened the email up in class, I think it would be safe to say the whole room lit up for me," Reddig said. "I was excited to see my efforts acknowledged this way. I am grateful that the selection committee saw something in my application they felt was worthy of this scholarship."
A participant in the Great Bend High School Jobs for America's Graduates-Kansas (JAG-K) program for four years, serving as the program's Career Association Chapter Secretary for three years.
Reddig completed her CNA certification and started working at a local hospital this spring.
"My career dream is to work as a pediatric nurse. I plan to do travel nursing as well at some point," Reddig said. "I plan to use the Ken Smith Scholarship to allow me to focus on my education, so I don't have to worry about paying for college."
This spring, Reddig placed third in JAG-K's statewide Employability Skills competition. That permitted Reddig to travel to Orlando, Fla., to participate in JAG's National Career Development Conference competition. While in Orlando, Reddig met Ken Smith and joined other recipients of the scholarship at a check presentation. In all, $70,000 in Kenneth M. Smith scholarships were awarded this year.
Her selection for the scholarship came as a surprise to Reddig, but it didn't surprise Jennifer Hopkins, JAG-K Career Specialist at Great Bend High School.
"Ashley works extremely hard for everything that she has achieved. She has had to face many personal adversities and learn to overcome each one," Hopkins said. "She is highly involved in many school activities and community service. She is continually looking for ways in which she can both advance and challenge herself. She constantly steps up and takes on leadership positions.
"Ashley is deserving of this scholarship because it reinforces the confidence she has worked so hard to build. This will encourage her to continue advocating for herself while she pursues her dreams."
As a JAG-K Career Specialist, Hopkins helps students like Reddig overcome barriers and graduate high school on time by equipping them with the skills to succeed. Kansas' 104 JAG programs, which serve approximately 5,500 students in 49 school districts across the state, have reported a graduation rate of 97 percent over the past four years.
JAG-K is a multi-year, in-school program for students in grades 6-12 that offers tools to successfully transition students into post-secondary school, the military, or directly into the workforce with marketable skills. Participants in the program face multiple barriers to success that their JAG-K Career Specialist helps them overcome through a nationally accredited, evidence-based model.
The 501(c)3 not-for-profit organization is a state affiliate of the national JAG program network which operates in 40 different states and territories. It is primarily funded through the Temporary Assistance for Needy Families block grant to the State of Kansas administered by the Kansas Department for Children and Families (DCF). In addition to school districts and DCF, JAG-K partners with the Kansas Department of Education. Other JAG-K funding sources include ADM, AT&T, Evergy, Goldstein Charitable Trust, John Deere, the Kansas Health Foundation, the Kansas Insurance Department, the Kansas State Bank Commissioner, Stormont Vail Health, Synchrony Financial, the Taco Bell Foundation and Walmart.
To learn more about JAG-K, visit www.jagkansas.org, 'Jobs for America's Graduates-Kansas' on Facebook, and on Twitter at @JAG_Kansas.