Beloit Senior Receives Annual JAG-K Mortimer Scholarship
Beloit High School senior Kylie Smith was named recipient of the Jobs for America's Graduates-Kansas (JAG-K) Mortimer Scholarship for seniors in high school at the JAG-K Career Development Conference Wednesday at McPherson College.
Smith was selected from an application process that included an essay, resume, a speech, letters of recommendation, and work samples.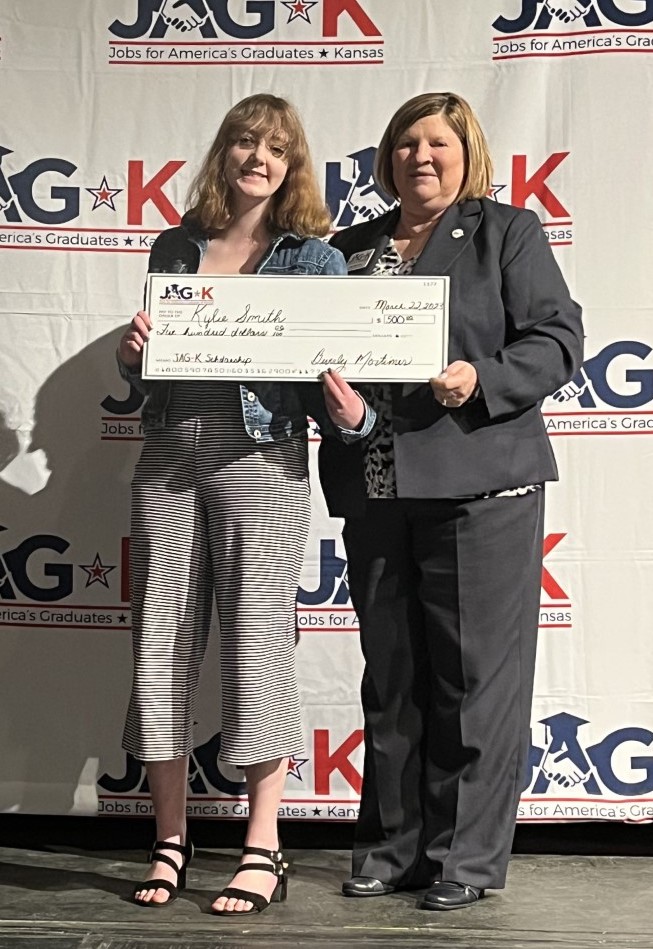 "We are always proud of the accomplishments of our seniors, and we're proud to recognize Kylie as the 2023 Mortimer scholar," said JAG-K President and CEO Chuck Knapp. "I also want to thank and acknowledge our Senior Vice-President of Programming, Bev Mortimer, who has funded this scholarship for several years."
Kansas' 104 JAG-K programs, which serve more than 5,500 students in 49 school districts across the state, reports a graduation rate of 97 percent over the past five years. Many of JAG-K's students attend college, overcoming barriers that might otherwise have kept them from succeeding in school.
The award was announced before more than 200 JAG-K students gathered at McPherson College for the annual JAG-K Career Development Conference.
"I was so excited when they announced that I would receive the Mortimer Scholarship," Smith said. "It's such a privilege and an honor to receive this scholarship, which will help me to get my education debt-free, because that's really important these days."
Smith plans to attend Cloud County Community College in the fall, majoring in history or political science.
"It was easy to choose Kylie for the scholarship because she has such enthusiasm for the JAG-K program," said Mortimer. "In her application, which included a video, a resume and an essay about her experiences in JAG-K, she really talked a lot about how it really impacted her life."
Smith has participated in the JAG-K program at Beloit all four years of high school. She served as the Beloit JAG-K treasurer last year and is secretary this year.
"Kylie has demonstrated what it takes to be a solid leader," said Beloit JAG-K career specialist Jacee Tice. "She would not speak as a freshman, and now can say she has competed in public speaking at three regional CDCs. I can always rely on Kylie for anything and everything. I'm so very humbled by her gracious leadership and am extremely proud of the work she has put into herself to get where she is today."
JAG-K is a multi-year, in-school program for students in grades 6-12 that offers tools to successfully transition students into post-secondary school, the military, or directly into the workforce with marketable skills. Participants in the program face multiple barriers to success that their JAG-K Career Specialist helps them overcome through a nationally-accredited, evidence-based model.
The 501(c)3 not-for-profit organization is a state affiliate of the national JAG program network which operates in 38 different states and territories. It is primarily funded through the Temporary Assistance for Needy Families block grant to the State of Kansas administered by the Kansas Department for Children and Families (DCF). In addition to school districts and DCF, JAG-K partners with the Kansas Department of Education. Other JAG-K funding sources include ADM, AT&T, EagleU, Evergy, Goldstein Charitable Trust, the JB and Anne Hodgdon Foundation, John Deere, the Kansas Chamber of Commerce, Kansas Gas Service, the Kansas Insurance Department, the Kansas State Bank Commissioner, Royals Charities, Synchrony Financial, the Taco Bell Foundation, the City of Topeka, United Way of the Plains and Walmart.
To learn more about JAG-K, visit www.jagkansas.org, 'Jobs for America's Graduates-Kansas' on Facebook, and on Twitter at @JAG_Kansas.