News Release: Augusta JAG-K Students Help Foster Care Home Prepare for Opening
In addition to career and leadership development, Jobs for America's Graduates-Kansas (JAG-K) emphasizes the importance of community service in preparing students for the future. Community service and civic awareness are important elements of the evidence-based JAG model.
JAG-K provides opportunities for students to explore careers through employer engagement relationships. It also provides students with service projects which get students involved in the community at large.
Augusta High School JAG-K students have volunteered on several Saturdays over the past couple of years to help with demolition and renovation of a former church building in Neodesha. The 9,000 square foot building will soon house children in foster care with an emphasis on keeping together siblings in the system. The SoHome Kids Foundation facility is slated to open later this spring.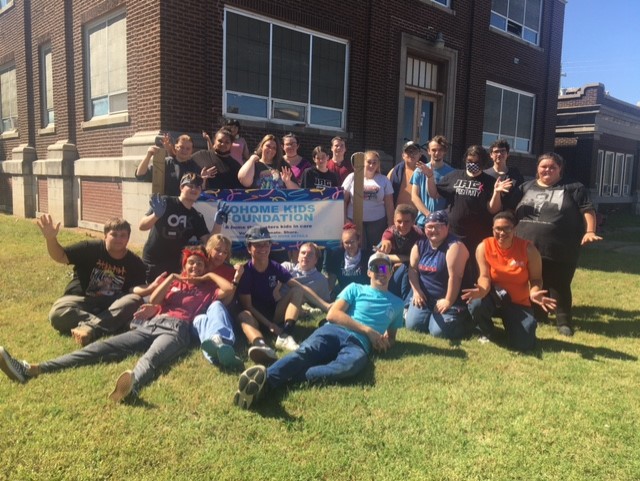 The Augusta JAG-K group first gained interest in the SoHome project when founder Nathan Daniel visited their classroom. After initially raising money to support the project, students accepted Daniel's invitation to assist in rehabbing the building in Neodesha, which is about 80 miles east of Augusta. They began by helping to empty the building of unwanted items. Next, they assisted with painting the interior. Finally, they helped to remove some interior walls, filling two trailers with rubble.
"There are so many benefits from working at the SoHome building," said Augusta JAG-K Career Specialist Christy Pray. "It's given students a chance to invest time long term in a meaningful project. Those interested in construction and facilities management have had hands on experience. And foster care is something that really touches the hearts of our students."
Augusta students returned to the SoHome building recently to celebrate a "soft opening." As the official opening of the facility nears, the Augusta group plans to return to put together bunk beds and make the beds up with sheets and blankets.
"I have enjoyed being able to see the progress from demolition to the final opening," said Clayton Carr, who serves as president of the Augusta JAG-K program. "This has been a great way for JAG-K to give back. It feels good to help out an organization that believes in keeping siblings together that are put into the foster care system. It also feels amazing to see the progress and know that we have played a part in helping this cause happen. I am proud of how Augusta JAG-K helped Sohome."
"We want to thank JAG-K for helping make a difference in children's lives and for being a part of creating a safe place for kids in foster care," said Daniel. "We love that these kids get to give back and use their skills to better our community.
"Every time JAG-K has come to help, they did a tremendous job! We are very blessed and impressed by the efforts that the kids put into every single task given to them. From taking down walls, to painting, to yard work, they have gone above and beyond, helping us get one step closer to opening. We are truly honored and blown away by these students and their leaders."
Kansas' 104 JAG-K programs, which serve more than 5,500 students in 49 school districts across the state, reports a graduation rate of 97 percent over the past five years.
JAG-K is a multi-year, in-school program for students in grades 6-12 that offers tools to successfully transition students into post-secondary school, the military, or directly into the workforce with marketable skills. Participants in the program face multiple barriers to success that their JAG-K Career Specialist helps them overcome through a nationally-accredited, evidence-based model.
The 501(c)3 not-for-profit organization is a state affiliate of the national JAG program network which operates in 38 different states and territories. It is primarily funded through the Temporary Assistance for Needy Families block grant to the State of Kansas administered by the Kansas Department for Children and Families (DCF). In addition to school districts and DCF, JAG-K partners with the Kansas Department of Education. Other JAG-K funding sources include ADM, AT&T, EagleU, Evergy, Goldstein Charitable Trust, the JB and Anne Hodgdon Foundation, John Deere, the Kansas Chamber of Commerce, Kansas Gas Service, the Kansas Insurance Department, the Kansas State Bank Commissioner, Royals Charities, Synchrony Financial, the Taco Bell Foundation, the City of Topeka, United Way of the Plains and Walmart.
To learn more about JAG-K, visit www.jagkansas.org, 'Jobs for America's Graduates-Kansas' on Facebook, and on Twitter at @JAG_Kansas.