AETNA FOUNDATION SUPPORTS JAG-K
Aetna executives judge Leadership Development Conference and then present $25,000 grant at JAG-K Statewide Leadership Development Conference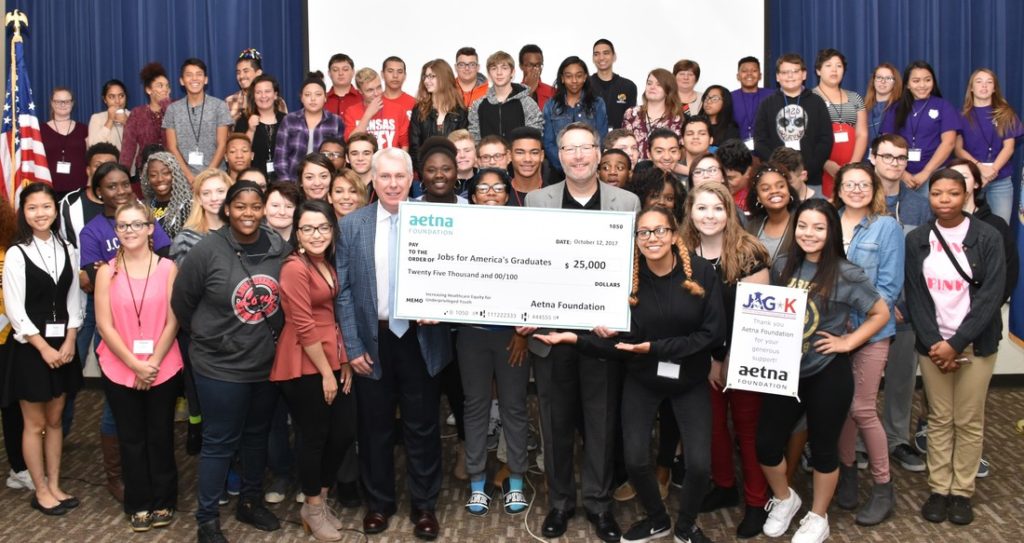 KANSAS (November 2, 2017) – Following a day of inspirational speeches by JAG-K students, Rick Mabe, Vice President of Community Development for Aetna, spoke to more than 200 students representing 68 JAG-K programs across Kansas and presented the organization a $25,000 grant award. The JAG-K students and their Career Specialists were gathered in Salina to participate in a two-day Leadership Development Conference (LDC), which featured student competitions and leadership elections.
"I was emotionally moved and inspired by your stories. I hope you will never forget where you came from, but keep setting goals and moving forward," encouraged Mabe. "The Aetna Foundation is pleased to support JAG-K, and your wonderful Career Specialists, who are having an impact on students daily, and we want to explore additional ways to continue to help all JAG-K students reach your full potential."
JAG-K President/CEO Chuck Knapp thanked Mabe and Scott Brunner, Medicaid/CHIP Policy Analyst at Aetna, who both served as judges for the Public Speaking competition on the first day of the LDC. Knapp said Aetna demonstrated a deep commitment to JAG-K students.
"Sometimes it's easier to simply write a check than to get involved with our students," said Knapp. "By volunteering, Aetna and their executives have shown they have a genuine interest in our students and the JAG-K mission."
The LDC, which was held at the National Guard Regional Training Site in Salina, featured competitions in Employability Skills, Math Skills, Project Based Learning, and Public Speaking. The top three finishers in each of the competitions qualified for the JAG National Student Leadership Academy (NSLA) in Washington, D.C., November 29 – December 1. JAG-K State Career Association officers were elected at the LDC and will join the national qualifiers, for a total of 18 JAG-K students making the trip to our nation's capital. 
In addition to competing, students were provided facilities tours and experienced various simulators, attended workshops, and heard from Dr. Blake Flanders, President & CEO, Kansas Board of Regents, and inspirational speaker Matt Bennett.